Understanding
Your Child's Grief
Death is never easy. Whether it's a sudden tragedy, like a fatal car accident, or a long drawn-out illness, such as cancer, losing a loved one is devastating. As an adult, even you may have trouble making sense of death. But what about your kids? They are at an even greater risk of not understanding a loss. And when you are trying to deal with your own grief, understanding what your child is going through can be a difficult task. A clinicial psychologist shares with SheKnows how to talk to your children about death.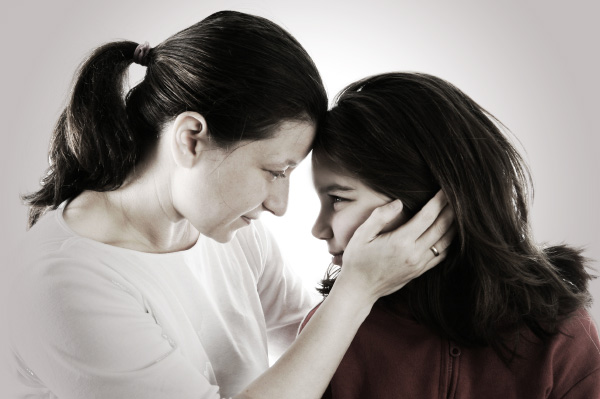 What are the effects of death on children?
According to Dr. Mia Gregor, clinical psychologist at
The Center for Personal Development
in Chicago, Illinois, children grieve differently than adults. "The grief of children is usually cyclical; meaning that with each new stage of development, the child may recycle and, in some ways, revisit previous feelings and behaviors associated with a death," she says. 
In addition, children are often confused and do not understand why they feel a certain way or even why they don't feel a certain way when everyone else seems to be. Dr. Gregor explains, "Since children are not able to express their feelings as well as adults, they may act out or exhibit undesirable behaviors, which are really just expressions of their confusion about what has happened."
Adults frequently have trouble accepting death so its only natural that many children do not understand that death is a natural process over which they have no control. Left unresolved, children can experience guilt and remorse over a death because they do not understand the concept of natural causality. "For example, they may believe that they caused the death because they did not clean up their toys like daddy asked the day before," says Dr. Gregor.
Despite the heartache and loss that death brings, adults have had the life experiences to understand that, with time, feelings do change. Children, on the other hand, have not yet had those life experiences and may not understand that things can get better as time goes on. They may become terrified that the hurt, guilt, sadness, or other uncomfortable feelings they have will never go away.
Dr. Gregor also points out that children are affected by their environment. She says, "Children are extremely sensitive to - and respond to - the emotional and behavioral responses of the adults around them. If family members are sad, isolating, angry, or aggressive, it will impact the child's emotional state and behaviors." And take note that changes in routines, such as mom not taking the child to school or bedtime routines being off will impact the child, as well. Children get used to having predictability and structure in their lives because it makes them feel safe and secure. Death can be a double whammy to their well being because not only are mom and dad terribly distressed and possibly distant, the predictability of their days – and their feelings of security – are upturned, too.

What age will children understand death?
According to Dr. Gregor, very young children cannot understand the concept of death as being final. They may grieve the absence of someone who has died, but they likely won't understand that death is permanent until they are between five and seven years old. At this point, they realize that people who have died no longer have biological functions, are not coming back, and that death eventually happens to everyone. 
Children's Common Coping Mechanisms
Similar to their inability to really grasp death, young children are also more limited than adults in coping with it. According to Dr. Gregor, children may experience more physical complaints, such as a stomach ache or headache in response to grief as opposed to crying or verbalizing their feelings.
Typical reactions of young children may include:
Guilt for causing the death. Research suggests that many young children feel extreme guilt when a sibling or parent dies, especially if they had wished them dead or gotten upset with them prior to the death.
Regression. Common examples of regression are thumbsucking, bedwetting, wanting a parent to sleep with them, and other behaviors characteristic of them when they were younger.
Denial and hopeful thinking. Children in denial may not acknowledge that anything has even happened. They may talk about the person in present tense, ignore conversations about the death, and refute the facts surrounding the death. They also may believe that the dead person will return. 
Older children tend to act out their distress. Dr. Gregor says typical reactions of older children include acting out, anger, and problems at school. However, death isn't an excuse to let children get away with inappropriate behaviors. Rather, these issues still need to be addressed, but in a way that actually helps your child develop and utilize appropriate coping skills.
Death can be a family crisis and, often, getting family therapy can help each family member express and understand his or her feelings as well as understand the feelings and behaviors of other family members. Family therapy can be a crucial component in healing after a loss. If you or another family member is overwhelmed with grief and having trouble coping with death, do no hesitate to contact a professional.
Are funerals helpful or harmful to children?
Though your preference may be to keep your children from going to a funeral, research suggests it is important for children to attend the funeral of a relative. Funerals can be helpful to children. Dr. Gregor explains, "They learn the ritual or ceremony that surrounds death, dying, and grief in a specific culture and/or religion. Even though they tend to remember few details, their overall recovery is enhanced."  
Children are used to predictability and death is often an unpredictable thing that disrupts the natural flow of living, leaving the child feeling unstable. Dr. Gregor suggests that whenever possible, allow the child to make choices about hospital visits, funeral attendance, viewing the body, and graveside visitation.  
"In my opinion, children need choices," Dr. Gregor says.  "If the child is old enough to understand and wants to participate, being included (of course with the support of family and friends) may be helpful in the grieving process."
 
What should parents tell children about funerals?
Dr. Gregor recommends that parents tell their children what to expect at a funeral; for example, what they will likely see and hear. Children should know that many people will likely be crying and, by all means, children should be informed if there will be a body viewing. Seeing a dead body for the first time can be traumatizing, particularly if it's a loved one. Preparing them for a viewing is crucial. However, do not make children look at a dead body if they are opposed.
Dr. Gregor also adds, "Answer all of your child's questions in a clear and calm manner. And, if your child decides that he or she does not want to participate in the funeral process, do not use coercion or guilt to get them to go." Children should not be treated in such a way that makes them feel badly. This will not help the grieving process.
Supporting your child
Dr. Gregor offers the following tips to help support your children when they are faced with death:
1. Try to have someone close to the child tell the child about the death.
2. Keep explanations of death simple and at a level that the child can understand.
3. Answer the child's questions as clearly as possible and if you do not know the answer then tell them so.
4. Try to alleviate the child's fears. Assure the child that he or she did not cause the death, and reassure the child that it is okay to feel sad, to cry, or show feelings in other ways.
5. Honor whatever response the child exhibits, even if it is not what you expected.
Regardless of the child's age, encourage communication and assign words to your own feelings whenever possible. For example, "I'm sad today because it is Saturday and mommy used to always have lunch with Grandma on Saturdays." This lets the child know that feelings are normal and that they are okay to express. You being a role model can help children in teaching them ways to express what they feel.  
What NOT to say
A big no-no is characterizing death as something it is not. Dr. Gregor warns, "Do not use euphemisms to explain death, such as 'mommy is only sleeping' or 'grandma has gone away for a long trip.' Children do not understand the deeper meaning of these and will likely take them literally. This means you will be dealing with the same death and possibly worse grief some time in the future. It is better to be honest and deal with death in an honest manner."
Equally important, Dr. Gregor says do not send a child away before the funeral and initial grieving process is over. "This not only makes the child feel separated from the family unit, but it also doesn't allow for an understanding of death, even if the understanding of a young child is rudimentary," she adds.
Helping kids grieve
Dr. Gregor says, "Encourage your children to express their feelings. Often play, art, and music are very useful tools for helping children (especially young children) express their feelings." Through expression, they can experience healing. Play, art, and music are therapeutic tools that you can encourage your child to do alone, with you, or with others. 
Additionally, these tools are forms of expression that encourage the development of emotional skills, offer the child opportunities to memorialize, and provide a ways for the child to effectively cope with feelings of grief or sadness.
As important, Dr. Gregor recommends that you give your child permission to be happy. She explains, "Many times, children see distressed and sad parents, and they respond by believing that they should be sad, too. Therefore, they may need permission to understand that they can feel happy and that it is okay to play and to laugh.
Grieving is not an easy process, but it is crucial in effectively dealing with death. Be empathetic to your child's responses to death and give them the support to express whatever feelings they have. In the long-term, you will be helping them become adults who can better deal with the loss of a loved one.
Here are a few additional resources for parents in helping their children through their grief: