Tools For A
Lifetime
I can still remember her face. The fourth grade bully who not only sat next to me in two classes, she was in my Girl Scout troop. This girl was brutal. She had an uncanny knack for the cutting remark that would make fragile emerging egos quiver. The one time I dared talk back to her, she challenged me to a fight at the big tree in back of the school when the day was over.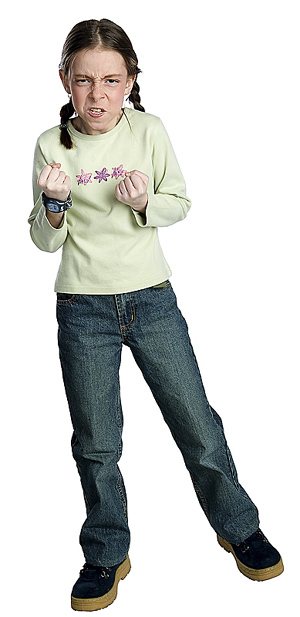 The class bully was big, too, so I didn't know what to do. Show up and I'd be beaten to a pulp and never live it down. Not show up and never live it down. I chose never live it down but with my body intact. And I never lived it down; the class bully made a snide remark to me about it at our high school graduation. I rolled my eyes and walked on.
Keeping Mama Bear Caged
I find that one of the hardest parts of parenting is helping my kids learn about and deal with bullies. Just when the mama bear in me, and I do mean bear, wants to burst forth and physically barricade the bully from my kid, give that bully a piece of my mind, and send the bully packing, I can't. I have to console and understand, give tools, use channels and generally not follow my first instinct. At least, I think, I can offer the perspective of having been bullied myself.
In spite of a strong anti-bully program in the kids' schools, bullies do still exist. We've had to deal with a few over the years, and it's never pleasant. They find subtler and subtler ways to try to gain an upper hand when adults aren't looking: in the back of the bus, under their breath when the teacher's back is turned, "accidentally" bumping hard into someone in a hallway on the way to lunch. The decision to go forward to appropriate adults can be a difficult one, full of risk of retaliation, either perceived or real.
Bully issues are never about the person being bullied, and always about the bullier. It's a power and control thing. For whatever reason, the bullier has an issue in his or her life that is making him or her feel out of control or insecure. Bullying another is often finding a way to feel in control again. The bullier may not be able to control a stressful family or other situation, but they can feel control when they make someone else feel badly. Realizing this was a turning point in how I related to bullies, and it helped me talk to the kids about bullies.
When a bully issue rears up at school, first I console. Then we talk about the kind of behavior that is happening and what we might be able to do to help the bully. That point has never gone over well the first time I mention it. Then we come up with some plans of action and I encourage my kids to go forward to someone is an administrative role at the schools as soon as possible. I give it a few days. Then, if the bullying continues, I make a phone call. Usually from there I am out of the direct loop of what is happening, but, knock wood, so far issues have been resolved. In once instance, the bullier received extra tutoring to boost reading skills and the bullying mostly stopped.
Not just a part of childhood
The sad thing is that we have to deal with bullies all our lives. They are not just a childhood issue. The skills I'm trying to help my kids develop have helped me in dealing with workplace bullies, and bullies in organizations in which I have volunteered. Again, it's a grasping for power borne out of insecurity. While workplace bullies are a bit more challenging to deal with (oh, how I wish there were a guidance counselor for some offices!), identifying and assuaging the insecurities at hand have helped at times. At the very least, I can identify the issues.
Mostly though, as unfair as it is, bullies are a part of life, childhood through adulthood, and helping my kids develop tools to deal with them is important. I hope, though, as more and more kids learn about managing bullying issues, the skills become less and less necessary. Unlikely, I know, but as with other things, I can dream.
Read more: