Overscheduled Kids
In today's world kids are often overbooked — sports, school activities, after-school jobs. When is it too much? Learn about the warning signs of stress and burnout, and when to let your child throw in the towel and quit.
(page 2 of 2)
Making it a family policy not to quit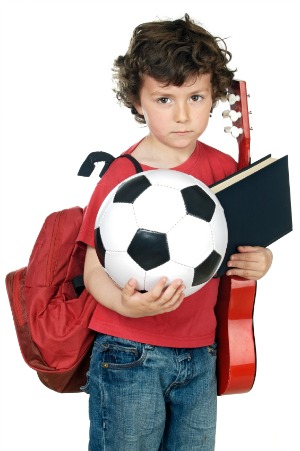 In order to teach your child about commitment and responsibility, make it a general family policy that your child commits to finishing what she starts. This helps shift the angst of the process to carefully thinking through sign-ups, instead of on dropping out of a particular activity.
Encourage lots of discussion and investigate options before signing up. That having been said, clearly you don't want to force your child to continue an activity that's creating a great deal of stress, anxiety, unhappiness or making her feel badly about herself.
Some parents feel it's simply unacceptable to quit a team except in extreme circumstances. If this is how you feel, tread cautiously and take into consideration your child's age. If your elementary school child is trying out team sports for the first time, the experience will be new to her. However, as your child gets older, you should be more adamant about her seeing a commitment through, except under extreme circumstances or if your child is profoundly unhappy.
Carefully consider whether you think a particular activity is good for her (such as exercise she wouldn't otherwise get) or something you consider essential (like learning to swim).
When your talented child wants to quit
You may feel particularly angry, disappointed, and frustrated if your child has exceptional talents in a particular activity and still wants to walk away. Clearly she has the skills, but perhaps feels too much pressure or expectations are set too high for her performance.
"Listen carefully to what your child says and how she feels, and teach her to make well thought-out decisions."
As a parent you walk a fine line between encouraging your child through tough times and allowing her to quit. You will likely find yourself wondering whether your child will end up being grateful to you for making her stick it out when she is older, or if your pushing will just leave her feeling unhappy or resentful.
This becomes even more crucial if you, as an adult, lament the fact that your parents let you quit an activity, and think wistfully of what you might have achieved if you had continued. Your personal regrets may dramatically color how you view your child's complaints or pleas to quit.
You want your child to be successful, and part of that success has to include your child's decision to redirect her energies into something better suited to her temperament and skills. This philosophy extends from the earliest activities to college years and beyond, when your child will be on her own making decisions about what to do with her life.
While wrestling with decisions over quitting, listen carefully to what your child says and how she feels, and teach her to make well thought-out decisions. This process will give her the invaluable gift of life skills.
Dealing with your own frustration
The decision to drop out of sports can be very emotional for both you and your child. Especially if you have invested a lot of time, money and emotion into your child's pursuit of a sport, it can feel like a personal betrayal when your child suddenly decides she's had enough.
You may find yourself worrying that your child may become a habitual quitter, lazy or is wasting away her potential. Just because your child quits ballet or karate at age 8 does not mean she will be a quitter as an adult.
If you are friends with other parents through an activity, your child quitting may mean you do not get to hang out with them anymore, such as on the sidelines.
When calling it quits makes sense
Ultimately, your job is to teach your child to make independent and thoughtful decisions about what's in her best interest. Quitting piano may end her chances to be a concert pianist or win a college music scholarship, but that may very well not matter a bit to her, as her passions lie elsewhere. Moreover, pushing your child against her will may only serve to make her hate the activity and feel resentful towards you.
"Although it is important to encourage your child's interests, don't keep pushing a passion."
Although it is important to encourage your child's interests, don't keep pushing a passion. In letting your child make her own decisions, you are acknowledging that passions sometimes wane. Give your child the right to quit when she has taken it as far as she wants.
If your child is miserable, frustrated and has taken an ego-beating, she may well be justified in washing her hands of a particular endeavor. In fact, she may be following a strong intuition that the situation is wrong for her. Your child's health and emotional well-being should come first and foremost, and she may be the best judge of this.
If you've tried everything and your child still moans and groans before every lesson or practice, then it's time to back off. Let her stop the activity so her frustration doesn't become generalized to hating all music, sports or lessons.
The process of quitting
Once the final decision has been made, support your child's choice. Tell your child, "Okay, we support you," and have your actions mirror that sentiment as well. At this point, whole-heartedly supporting your child's decisions is important for her feelings of self-worth. Don't be afraid that you may be raising a perennial quitter when your elementary-age child decides she has had enough.
Talk about quitting in terms of taking a hiatus. Tell your child, "It sounds like you need a break." Emphasize that this is not a permanent decision. Leave your child the option to take the activity up again later if it becomes more appealing. Sometimes a child just needs a sabbatical from the activity to regroup.
Ask your child to go with you to tell her coach/teacher that she has decided to leave the activity and why. Even if this is the most basic of explanations and exchanges, it will provide your child with much-needed closure.
Offer your child the option of switching to a different activity, so that if she quits soccer, she agrees to try a different sport that will continue to build her physical skills and fitness.
Reasons why unstructured play is important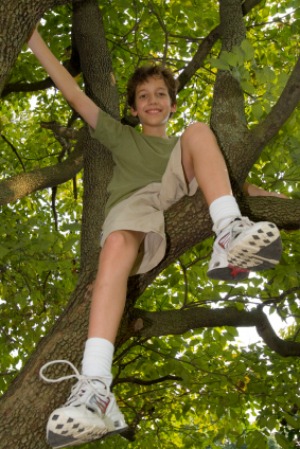 While your child might have a number of opportunities to pursue after-school activities, she also needs time to relax at home. School takes a lot of energy, and your child needs some downtime to play with friends and siblings and to participate in family activities. She may be interested in music, dance, gymnastics or another sport, but she doesn't need to do all of them at the same time.
Advocate a little boredom for your child. When we were growing up and complained about being bored, our moms promptly showed us the back door and told us, "Go outside and find something to do!" And remarkably, we did.
We found neighborhood buddies to climb trees with, chase around the block and start a pick-up game. We examined bugs in the yard, made angels in the snow and built secret forts. We curled up with a paperback book on the porch or in a comfy chair somewhere at home. We used our imaginations and came up with hours of entertainment that didn't involve our parents or any electronic device. It used to be that the work of childhood was play, exploration and experimentation — not in the context of structured classes or lessons with adults, but in free time roaming outside when not in school. Those were the days of skipping, hop scotch, jungle gyms and tag. When kids have downtime every day, they learn to thrive on spontaneity and creativity.
Free time provides your child with the opportunities to be self-motivated and follow whatever captures her interest in the moment. Play is not a matter of doing something for positive adult feedback or measurable achievement, but done for the sheer joy of being immersed in a fun activity and exploring things on her own.
Downtime is not wasted time. Our culture sends parents a message that unstructured leisure hours waste valuable time. Play appears frivolous, taking away from the future success of your child, in a society that places a premium not only on being successful but also on being a star.
More about stress and kids
Paring down extracurricular activities
Tricks for keeping kids' schedules active but balanced
Is your child over-scheduled?