Pregnant Celebrity
Photo Gallery
Happy Wednesday Hump Day — also known to us as Celebrity Baby Bump Day! We have rounded up the cutest pregnant celebrities of the week, including Kristin Cavallari, who shared photos from her Fit Pregnancy magazine shoot. The Chew's Daphne Oz was spotted wearing an adorable maternity top, while Warm Bodies star Teresa Palmer showed off her baby bump on the red carpet. Pregnant celebrities Jenni "JWoww" Farley and Kendra Wilkinson round out our list of the cutest pregnancy celebrities of the week.
(page 4 of 5)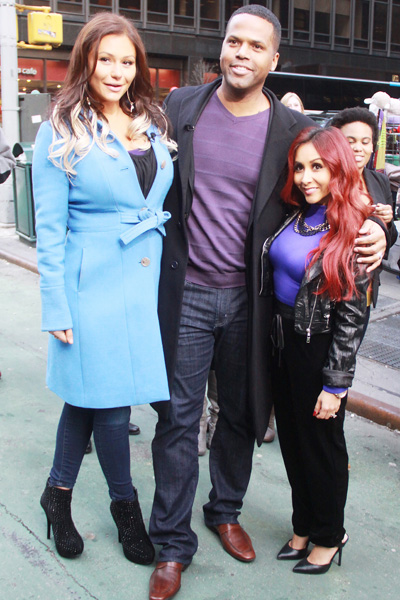 Jenni "JWoww" Farley
Pregnant Jersey Shore alum Jenni "JWoww" Farley shows off her baby bump in a blue coat as she poses with Access Hollywood's A.J. Calloway and Snooki during an interview on the show.
The 27-year-old reality star is expecting her first child in July with her fiancé, Roger Mathews, and announced she is expecting a baby girl!
"I pictured a boy this whole time, so when I saw 'girl' on the paperwork, I was like, 'No way!'— but deep down I think I knew," she told Us Weekly.
"Lorenzo is gonna have a BFF, and I couldn't be happier!" she said, referring to Snooki's son.
Farley said she is looking forward to bonding with her daughter. "She will be my best friend and daddy's little girl. I can't wait for everything from her first steps to her first dance class."
One thing she is not looking forward to? The teenage years! "I was a teenage girl once, and, boy, do I know how sneaky we can be! Karma is gonna kick me in the butt with her!"
Next up: Pregnant Kendra Wilkinson goes gluten-free at Sundance