Pregnant Celebrity
Photo Gallery
Happy Wednesday Hump Day — also known to us as Celebrity Baby Bump Day! We have rounded up the cutest pregnant celebrities of the week, including Kristin Cavallari, who shared photos from her Fit Pregnancy magazine shoot. The Chew's Daphne Oz was spotted wearing an adorable maternity top, while Warm Bodies star Teresa Palmer showed off her baby bump on the red carpet. Pregnant celebrities Jenni "JWoww" Farley and Kendra Wilkinson round out our list of the cutest pregnancy celebrities of the week.
(page 2 of 5)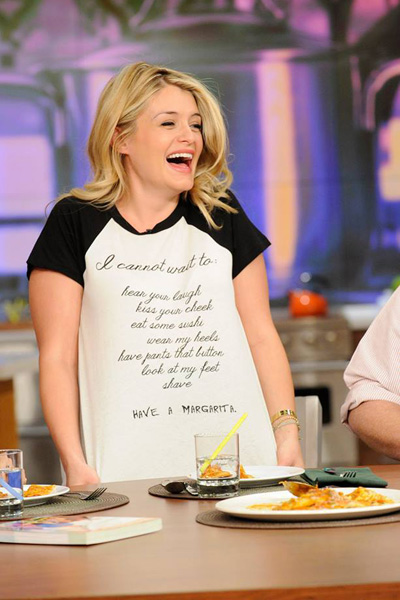 Daphne Oz
The Chew's Daphne Oz looked absolutely adorable this week wearing a maternity shirt that said:
"I can't wait to:
Hear your laugh
Kiss your cheek
Eat some sushi
Wear my heels
Have pants that button
Look at my feet
Shave
Have a margarita"
Love her maternity top? You can pick up her WildFox Graphic Tee at A Pea in the Pod for $70.
Daphne, who also happens to be the daughter of Dr. Oz, is expecting her first child with husband John Jovanovic in March. The baby will also be the first grandchild for Dr. Oz and his wife, Lisa.
"The most important lesson my dad shared was not to worry," Daphne told Mamaglow.com. "He knows I'm a nerd and that I'd love to read everything I could and ask everyone with any knowledge in the space for their advice, but he encouraged me to absorb it all, figure out what seemed smartest and made the most sense for me with my doctor's counsel, and then just to enjoy the process!"
She also shared her favorite vitamins and supplements (Dr. Oz will be so proud!). "I love the Metagenics Pregnancy Packets, and I supplement with a healthy probiotic, extra folic acid (my doctor recommended I do this), and B12 to help ward off sciatica and lower back pain. Additionally, if your prenatal doesn't include them, essential fatty acids are especially crucial as the baby's brain is forming. They also may help keep "baby brain" from setting in too badly with mom."
Next up: Warm Bodies' star Teresa Palmer dresses up her bump
Photo credit: The Chew via Facebook