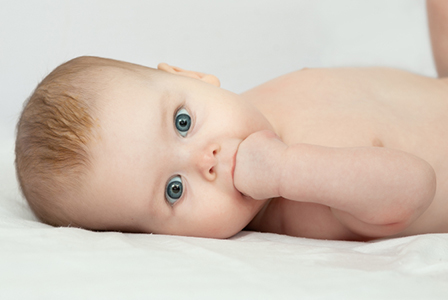 Some names are masculine and others are feminine, but the baby name gender lines are becoming fuzzy. Using boy names for girls, and vice versa, has become trendy — and many popular names are now considered suitable for either gender.
Surprising gender-neutral names
Celebrities have embraced unique unisex names in a big way. Oscar Nunez named his daughter August Luce, Rachel Uchitel named her daughter Wyatt Lilly and Marla Sokoloff calls her little girl Elliotte Anne. Both Jessica Simpson and Lindsay Sloane named their daughters Maxwell.
Other famous parents opted for unisex middle names. Maggie Gyllenhaal and Bruce Willis named baby girls Gloria Ray and Mabel Ray, while. A.J. McLean and Jessica Capshaw named their daughters Ava Jaymes and Poppy James.
Open your mind and consider these surprising unisex names for baby boys and girls alike. Use them as first names, middle names or both.
Two babies, three unisex names:  Joe Nichols' daughter is named Dylan River, while Jay DeMarcus' son is named Dylan Jay.
Rachael Leigh Cook paired a feminine first name with a unisex middle name: Charlotte Easton.
Lisa Ling gave her daughter the same name that Katie Price gave to her son: Jett.
Kristen Belle's daughter and Kailyn Lowry's son are both named Lincoln.
Jack Huston and Shannan Click named their daughter Sage Lavinia.
David and Victoria's daughter is Harper Seven and Brent Seabrook's son is Carter Seven.
Click the banner to check out our database of over 30,000 baby names >>

More baby name inspiration
Masculine-turned-feminine baby names
Unique spellings for common baby names
Nature baby names