Celebrity Moms'
Cute Activewear
Ready to get in shape this year, but tired of your ratty old gym shirt? Look cool while you get in shape with this workout wear that is loved by celebrity moms Kate Hudson, Reese Witherspoon, Olivia Wilde and Hilary Duff. If your resolution this year was not only to get in shape, but to also save money, then you are in luck — most of these pieces are also very affordable.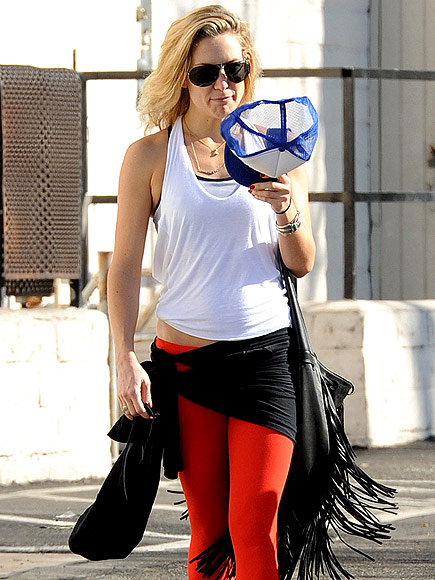 Kate Hudson
Actress and mom Kate Hudson always looks casually chic — and her workout wear is no exception. Hudson, who has two sons Ryder and Bingham, actually just launched her own budget-friendly athletic wear label called Fabletics, which she was spotted wearing.
Hudson gives her workout style a pop of color in the Fabletics Salar Legging in Rouge (Fabletics.com, $40). She pairs her pants with the Fabletics Vaasa Sports Bra ($16) which she layers a white tank over. The crisscross design on the back of this tank is such a fun design!
"What's most exciting to me is that our line can be available to everyone. I love that it's high-quality, hip and affordable," Hudson told People.
Like many of us moms, we wear our workout wear everyplace from school drop-off to the grocery store, and Hudson said she created her line for that exact purpose. "I was always looking for high-quality, affordable athletic wear that was also hip. Clothes that women would love wearing all day," she said.
Let's discuss her drool-worthy black fringe bag! What you are saving on workout clothes, you will spend on her McFadin fringe handbag, which runs around $400.
Next up: Reese Witherspoon wears cool Kitsch hair accessories