What Dangers Lurk In Your Home?
There's nothing more precious than the time your family spends together in your home. Unfortunately, where you gather can be dangerous and deadly for the little ones. Take a look around your living room for anything that could potentially harm your curious toddler.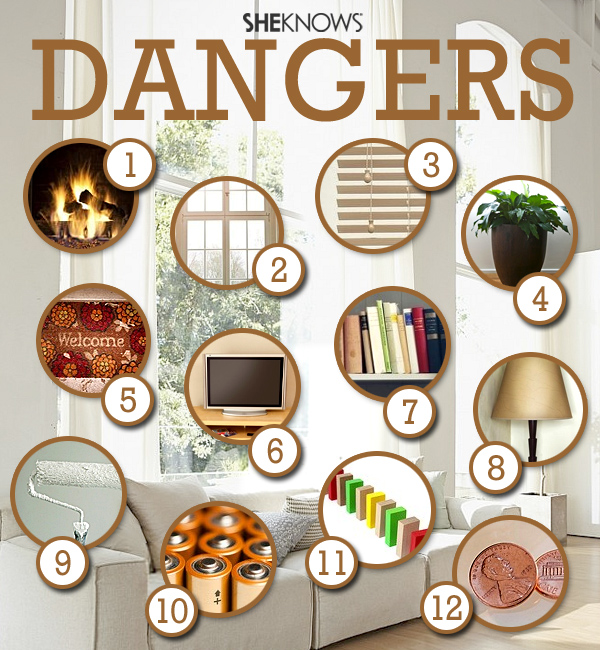 One of the easiest ways to find potential toddler hazards is to look at your home from your child's point of view. "Get down on your hands and knees and crawl around the living room," says child safety expert Debra Holtzman, author of The Safe Baby: A Do-It-Yourself Guide to Home Safety and Healthy Living. "You will be surprised by what you see!"
There are so many hazards surrounding that cozy fireplace. Blazing fire aside, the sharp, hard edges of the stone or wood hearth are just waiting to trip up your carefree toddler. Consider adding a soft border to prevent injuries, such as the Fireplace Guard by Prince Lionheart, to absorb the impact of any falls your child may incur.
"A child can fall out of a window that is open more than four inches, and screens offer no protection," warns Holtzman. "Install window guards on all windows in your home. (Use quick-release mechanisms on any windows that are part of your fire-escape plan.) Or opt for a less-costly window-stopping device, which attaches to the inside of the window frame to prevent the window from opening more than four inches."
On Nov. 22, 2013, the Window Covering Safety Council (WCSC) issued yet another warning about the dangers of corded window blinds and shades, which "pose a strangulation hazard for young children." The WCSC reminds parents of young children to follow basic window cord safety precautions:
Move furniture and climbable surfaces away from windows
Keep window cords well out of the reach of children
Install only cordless window coverings
Adjust tasseled pull cords to the shortest possible length
Tighten continuous-loop pull cords on drapes and blinds tight and anchor with a tension device
Install and adjust cord stops to limit movement of inner cords on blinds and shades
Houseplants are great for indoor air quality, but some pose a threat to children. "Dieffenbachia and philodendron are common houseplants that contain oxalates, microscopic crystals that are released into the mouth when the plant is chewed and cause extreme pain and inflammation," says Holtzman. "Parents of young children (and pets) should purchase only nontoxic plants."
"Add a welcome mat at your front door for family members and guests to wipe their feet (or better yet, remove their shoes) before entering your home," suggests Holtzman. "Pesticides and other harmful toxins can be easily tracked into the home on the soles of shoes and can settle into the carpet where your child plays, sits and crawls."
"The number one danger in our living room has to be the TV," says Matt Becker of MomAndDadMoney.com. "Now that our son has started climbing, there's a big potential for him to pull it down and have it crash on top of him."
Becker purchased straps that attach to the back of the TV and the TV stand. "He could still possibly slide the bottom out, but then it falls backwards and not on top of his head." If possible, do away with the TV altogether and attach a flat-screen model to the wall instead.
While you're out there buying straps for your TV, be sure to pick up some anchors for your bookcases. A bookshelf is like an indoor ladder to a child... especially if there are enticing items on the upper shelves. Sadly, climbing toddlers have been crushed to death by falling furniture. Place your heaviest books and items on the bottom shelves and securely attach the unit to the wall.
"One often-overlooked safety hazard are lamps," says child-development expert Ingrid Kellaghan, founder of Cambridge Nanny Group. "Because lamps utilize three safety hazards — electricity, heat and glass — precautions must be taken to avoid accidents."
Choose table lamps with a sturdy base so they are not easily knocked over
Tape cords to baseboards so the lamp cannot be pulled down
Place lamps as far back on tables as safely possible so they're not within reach of your little ones' fingers
Consider using heavy-duty commercial Velcro to secure the lamp base to furniture
Avoid floor lamps that tip over easily
Many homes built before 1978 contain lead paint that can poison a child. Highly toxic lead dust is released from deteriorating paint on walls or windowsills. "The only way to know if your home contains lead paint is to have an independent inspector conduct a lead inspection and testing," says Robert Weitz, principal of RTK Environmental Group. "Then you will know what you are dealing with and can have the problem taken care of."
Ryan Eland, founder of InfantCPR.com, provides online pediatric CPR training for parents, grandparents, babysitters and other caregivers. Eland reminds us about the little things — beyond furniture and fireplaces — that are also potentially dangerous to toddlers:
There are batteries in toys, remote controls and a wide array of items that are lying around your family room. Little nimble fingers can manipulate batteries right from their source. "The tiny round batteries are the most dangerous," cautions Eland. "They can leak corrosive chemicals and cause serious burns, and they have been known to be fatal."
Perhaps your older children have small toys or toys with small parts. It's so important to find a way to corral these little dangers before your toddler gets his hands on them. "Any toy that is smaller than 1-3/4 inches should be considered a choking hazard for toddlers," says Eland.
The living room is where we gather, craft, watch TV, unwind... it's no wonder that so many everyday things accumulate there. Eland encourages parents to be on the constant lookout for problematic items such as pen caps, soda bottle caps, safety pins, jewelry, magnets and coins.
Bottom Line:
Be vigilant. "Baby proofing can never be 100 percent effective," says Holtzman. "Proper supervision is always required." Make sure all child safety products are properly and carefully installed and well maintained.
More household dangers
Toddler dies in washing machine accident
Baby-proof your bathroom
Child safety checklist for the home