Why Cannabis Worked For These Moms
Using medication during pregnancy is controversial — using an illegal drug during pregnancy is even more so. These moms, however, chose to use marijuana during pregnancy and don't regret it.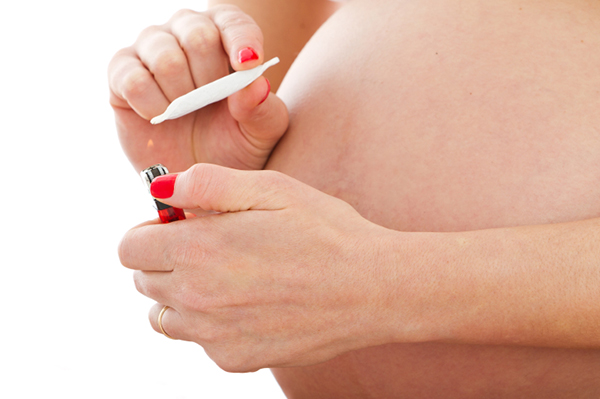 Marijuana is currently against federal law, and although some states have legalized it for medical use (and some have gone even further and legalized it for recreational use), it remains taboo in many circles despite the fact that it's considered to be less damaging than alcohol, which is a legal substance. However, its medicinal properties have been well-known for many years, and it is often used for pain and nausea relief. Some women have found massive improvement using cannabis during pregnancy, and we found out why.
Nausea relief and more
Morning sickness is bad enough, but some women are unlucky enough to be handed a case of hyperemesis gravidarum (HG), which is a serious pregnancy complication that features severe nausea, vomiting and dehydration. It can lead to hospitalization so the mom-to-be can receive intravenous fluids and in some cases nutritional support (such as a PICC line). There are medications available, but they're not always effective and some have undesirable side effects.
Dr. Joey Rottman, D.O. is a medical associate at Intergr8 Health in Burlington, Massachusetts, who specializes in obstetrics and gynecology and integrative pain management. Fortunately, he was on hand to answer some important questions about marijuana use during pregnancy.
"The main reason women choose to use cannabis during pregnancy is for severe nausea and vomiting known as HG," he explained. "They feel in many cases it is safer than prescription medications that physicians prescribed and they feel it is certainly safer than having a PICC line."
This is exactly why an Iowa mom of two would make that choice in the future, if it came down to it. "Honestly if I were to have another baby, if I again suffered from HG, I would probably seek out edibles," she explained. "I was sick the entire time with both of my girls, and don't like taking medications when they are only semi-effective. As a last resort I would smoke, but I would definitely try a pot cookie or a brownie or something similar to see if it worked."
Blessing of a provider
It can be hard to get the blessing of a health care provider for cannabis use during pregnancy, but we found two moms-to-be who have. "My health care provider believes that there are circumstances in which the benefits outweigh some risks, and I fall under that category," explained a Texas mom-to-be. "Recently, we acquired a vaporizer known as a volcano. The marijuana is heated to super high temperatures, and the vapor then fills a plastic bag. It has a mouthpiece you can attach to it to inhale it. There is absolutely no smoke. Since I gave in and started smoking again I've had almost no issues with morning sickness, and my appetite has returned. My anxiety level, which is normally extremely high, is about as level as it can be during pregnancy which I believe has had an enormous benefit. With my son I spent so much time scared and crying and in a panic, now the same problems (chronic bleeds, high blood pressure, so on) are either resolving or healing, and I attribute that greatly to not stressing my body out for no need."
A Missouri mom, who is expecting her second child, also got the go-ahead from her provider. "With this pregnancy I randomly have since 12 weeks," she told us. "I have the support and encouragement of my midwife. It really helps me relax and it also helps with aches and pains related to pregnancy."
What are the risks?
Dr. Rottman said that studies on the risks of cannabis use during pregnancy don't really paint a clear picture — for starters, most of these studies are from a couple of decades ago. "They show a decrease in birth weight, a slight decrease in Apgar scores and an increase of admission to the NICU," he stated. "The study data is fuzzy because they cannot and do not separate cannabis use and alcohol consumption at times. There was one study in Jamaica which showed a benefit of marijuana but they also showed that those who used cannabis were in a higher socioeconomic class. No known studies compared methods of consumption but it is commonly felt today that vaporization is safer than smoking and more effective than oral consumption."
Limited research studies
One thing that Dr. Rottman points out is that there are few studies that support the use of medical marijuana, and the reasons for this might not be what you think. "There are so few studies in general which support the use of marijuana for medical purposes and any studies or trials very rarely meet standards because the FDA/NIDA makes it very difficult for researchers to conduct large number randomized controlled trials on humans, unless those studies are designed to show the harm of marijuana," he explained. "FDA-quality trials are very expensive and the funding is not often possible for cannabis research because there are no large pharmaceuticals companies paying for the studies as there is no money to be made for them from the results."
The bottom line? Sometimes women and their care providers can come to an agreement that using cannabis during pregnancy is a better option than some medications — and in many cases, better than being hospitalized with a PICC line. "One must sit down with the patient and discuss the risks and benefits of cannabis use," Dr. Rottman said. And if you catch a whisper that a mom-to-be is using cannabis, you should think twice before condemning her — it may be the best choice for her.
More on pregnancy
Real moms share: How I announced my pregnancy
What's the deal with orgasmic birth?
Is home birth safer than natural birth?