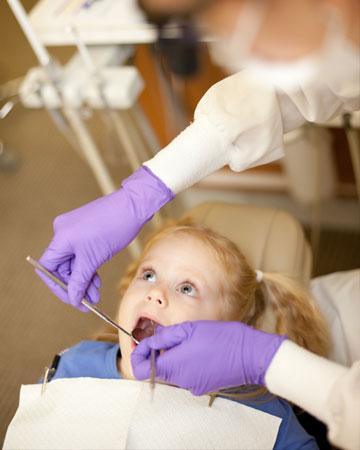 Healthy teeth for life
As soon as that first tooth sprouts, many parents find themselves in a dental dilemma as to when is the right time for their child to see a dentist. Is it after their first tooth sprouts — or can you wait until they have a mouthful of pearly whites at age 2 or 3?
We spoke with dental experts to get the tooth truth!
Many parents think it is a waste of time to take their baby to see the dentist after that first tooth sprouts — after all, how much trouble could one little tooth get into? Is it a good idea to wait until your child is older before he sees a dentist for the first time? We spoke to the experts to get the scoop.
When should your child really first see a dentist?
We went straight to the experts and spoke with Dr. Warren Brill, who is the American Academy of Pediatric Dentistry (AAPD) president and national spokesperson.
"In order to prevent dental problems, children should see a pediatric dentist when the first tooth appears, or no later than their first birthday," says Dr. Brill. "The earlier the visit, the better. It is important to establish a dental home to ensure that the child's oral health care is delivered in a comprehensive and ongoing manner by a pediatric dentist. "
Not all dentists, however, think it is necessary to see a dentist that soon. Dr. Adam R. Salm of Madison Dental Spa says that kids can first go see a dentist at 2 years of age, instead of when that first tooth erupts.
"Usually all baby teeth are in by 2 years old, which is a standard time to first go for a dental exam," Dr. Salm says.
However, Dr. William R. Cherry III of Coastal Carolina Pediatric Dentistry in Wilmington, North Carolina, says he thinks it is important to see a dentist as soon as that first tooth erupts, as this first visit provides vital educational tips for parents.
"At this visit, we look at the soft tissues and the teeth that are there and will place fluoride on the teeth, but the main purpose of the visit is anticipatory guidance," Dr. Cherry says. "There are many parents that do not know — or do not realize — that some of their practices at home may not be very good for their children's teeth, and we like to help them with this. This can include not putting your child to bed with a bottle and not realizing that milk has a good amount of sugar present in it. Once the teeth are brushed at night, one should not have anything to eat or drink other than water."
Pediatric dentist — or is a general dentist fine?
A general dentist will be able to meet your needs, however Dr. Brill says that a pediatric dentist is specially trained for children's unique oral health needs.
"While a general dentist is qualified to treat all patients, pediatric dentists have two to three years of further professional education after becoming a dentist, emphasizing child psychology, growth and development and special health care needs. Infants, preschoolers, children and adolescents require different approaches to manage their behavior, guide their dental growth and development and help them avoid future dental problems," he says. "A pediatric dentist is best qualified to meet these needs. "
Since we had Dr. Brill's ear, we had to ask a couple more pressing questions on kid's dental health.
Manual vs. electric: Which brush is best for kids?
"Electric and manual toothbrushes are both efficient for cleaning teeth — however, each has its pros and cons," says Dr. Brill. "A manual toothbrush allows a child to scrub back and forth, which hits multiple teeth at once. Electric brushes, especially the ones with circular heads, hit one tooth at a time. If your child has enough patience, an electric toothbrush could offer a more thorough cleaning."
He also says that the most important factor in selecting a toothbrush is to make sure it is age-appropriate. "For infants, a soft-bristled toothbrush with a small head, preferably one designed specifically for infants, is sufficient. When teeth emerge, look for a toothbrush designed for children's smaller hands and mouths. The best toothbrushes have soft, round-ended, polished bristles that clean while being gentle on the gums," he says, reminding parents that it is also important to buy a new toothbrush every three months, or when the bristles get frayed.
What is the best toothpaste for kids?
Dr. Brill says to look for toothpaste with fluoride and the American Dental Association Seal of Acceptance — and to make sure kids do not swallow any toothpaste.
"Use a 'smear' of toothpaste to brush the teeth of a child less than 2 years of age and a 'pea-size' amount of toothpaste for a 2- through 5-year-old," he said.
As for fluoride rinses, they are not needed unless a dentist determines that your child has a high risk of tooth decay.
When can kids brush their own teeth?
Most parents are more than willing to give up their kids' toothbrushing duties, but when is the right age to let your child take the brushing reigns? "Children should be supervised while brushing teeth until they are able to tie their own shoe or around 7 to 8 years of age," Dr. Brill suggests.
More on kids' dental health
Surviving your child's first dental appointment
A checklist for choosing a pediatric dentist
Are dental x-rays safe for your kids?