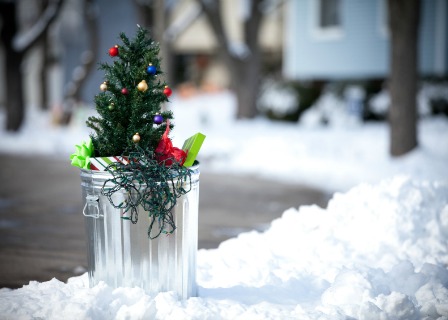 After the opening of all the presents, your children will have a huge pile of new toys but also a huge pile of trash. Tissue paper, gift bags, wrapping paper, envelopes, cards and boxes — what goes in the recycling bin and what goes in the garbage?
The dos and don'ts of holiday recycling
According to the Environmental Protection Agency, our nation's recycling rate is only 30 percent. The holidays certainly make recycling even more challenging. What can — and can't — you recycle at this time of year? Here is the general rule of thumb.
Thumbs up
Christmas cards — Most curbside recycling programs will accept holiday cards and envelopes but only those without metallic coatings, glitter or other embellishments. Photo cards are not recyclable.
Gift boxes — Paperboard gift boxes free of glitter and waxy coatings are perfect for recycling.
Toy packaging — Cardboard toy packaging is OK to put in the recycle bin. Just remember to remove all plastic ties, bags and other non-paper packing items.
Thumbs down
Gift bags — They are great to save and reuse but not the right paper for recycling so leave them out of your curbside bin.
Tissue paper — Most centers cannot recycle neon colored paper, dark dyed paper or tissue paper due to their shorter fibers. But, tissue paper can be easily composted.
Wrapping paper — It depends. There is debate on the recyclability of wrapping paper so it is best to contact your town's recycling center and investigate. In general, wrapping paper is not recyclable because it contains too many dyes, lamination, glitter and plastics.
Non-curbside recycling
Before throwing everything away, or contaminating the recycling bin with non-recyclable materials, know your town's recycling rules by calling or visiting their website. Remember, the best way to reduce your waste is with eco-friendly wrapping alternatives and upcycling where you can.
More about eco-conscious families
Fun ways to teach your kids to "go green"
5 Earth-friendly outings with your kids
Green back-to-school tips for every age