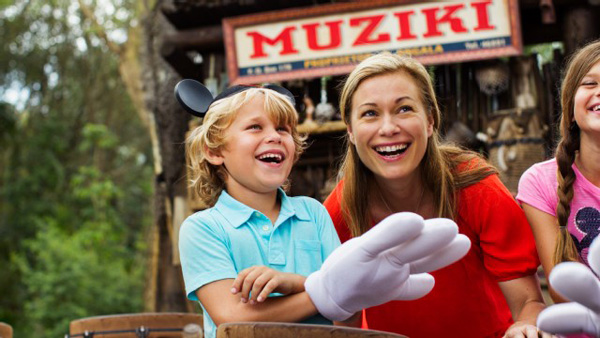 Which Disney
is right for you?
Not sure if you should take the family to Disneyland or Disney World? Ask yourself these questions and find out which Disney destination is right for you.
How long do you plan to stay?
If you're planning a shorter vacation, Disneyland is your best bet. The Disneyland resort is a much more contained environment, comprising Disneyland, California Adventure and the shops and restaurants of Downtown Disney and can easily be experienced in two or three days.
"The minimum amount of time that should be spent at Walt Disney World would be five days"
If you're planning a longer vacation, Walt Disney World boasts four theme parks, two water parks, ESPN Wide World of Sports, Downtown Disney, the Boardwalk and resorts and restaurants galore. "The minimum amount of time that should be spent at Walt Disney World would be five days," says Gavin Doyle, editor and founding partner of DisneyDose.com.
Are you looking for a wide range of activities or a smaller, more contained experience?
If your family's idea of fun is to lace up your walking shoes, slather on the sunscreen and get up at the crack of down to pack as many rides, thrills and attractions into one day as humanly possible, then you probably hear Walt Disney World beckoning. A Disney World Park Hopper ticket lets you visit multiple parks in one day — Epcot, Magic Kingdom, Disney's Hollywood Studio and Disney's Animal Kingdom. If you and the kids enjoy water parks, you won't want to miss Disney's Typhoon Lagoon and Blizzard Beach for plenty of Disney-style sliding and splashing fun.

If you like a vacation of a more contained sort, Doyle recommends the "smaller and more charming" Disneyland Resort, preferring its history and attention to detail. One thing you might not know about Disneyland is that while much less expansive than Disney World, it actually has more attractions — they're just packed into a smaller area.
How much walking are you up for?
Disneyland sits on 300 acres, while Disney World spans 43 square miles. Because the attraction density is greater at the Disneyland resort, you can experience more rides and shows with less walking. This can be a big factor for families with small children in strollers or kids who simply don't do well with a lot of walking. If you have elderly family members with you, this is also an important consideration.
Are you a family who doesn't mind hoofing it? If so, Disney World offers ample opportunity to exercise your legs while taking in the resort's many attractions.
Quick tip:
Check out the Disney Tourist Blog and The Disney Blog for in-depth comparisons of Disneyland and Disney World's dining, attractions, ambiance and more.
More Disney travel tips
How you can afford a trip to Disney
Tips for Disney World First-timers
Family's guide to a 3-day Disney adventure
Image credit: Courtesy of Disney.com