Photo Ornaments For Christmas
Turn a handmade ornament into a cherished keepsake by adding a precious family photo. These photo ornaments are easy enough for kids to make and the perfect holiday gift for friends and family.
Pom-pom wreath ornament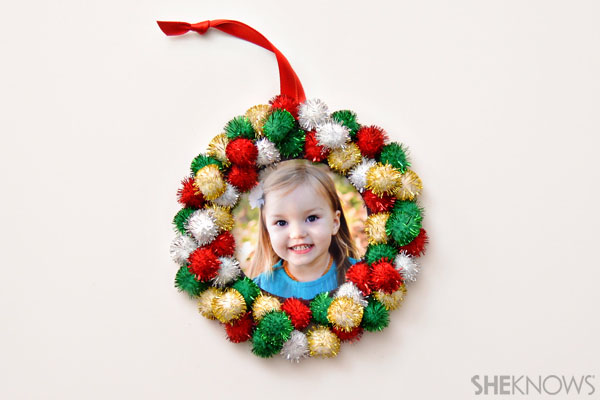 Supplies:
Piece of cardboard
Pen
Scissors
Cup or bowl
Glue
Sparkly pom-poms
Ribbon
Photo
Directions:
Trace around a cup or small bowl on the cardboard to make a circle. Trace around a second slightly smaller cup or bowl to draw a smaller circle within the larger circle.
Cut out the wreath shape by cutting out the center circle, then cutting around the larger circle.
Cover the front of the cardboard wreath with glue, then place the pom-poms in a single layer on the front of the wreath.
Come back and glue a few additional pom-poms on top of the first layer of pom-poms.
Once the glue is dry, flip the wreath over. Cut a piece of ribbon, fold it in half, and glue the fold to the back of the wreath. Tie a knot in the ribbon.
Cut out a photo that is slightly larger than the inner opening of the wreath.
Glue along the inner wreath opening on the back side of the wreath, then glue the picture to the back of the wreath.
Cookie cutter photo frame ornament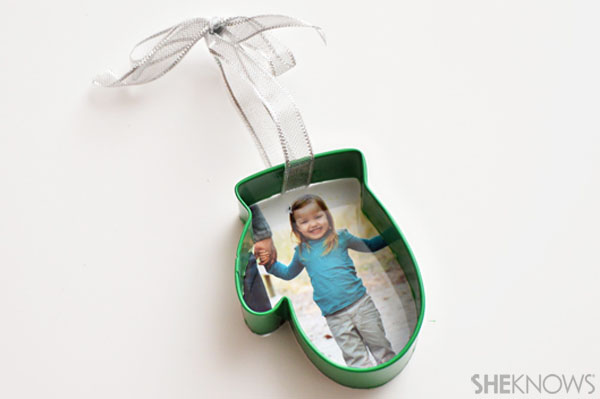 Supplies:
Cookie cutter
Photo
Pen or pencil
Scissors
Glue
Ribbon
Directions:
Place the cookie cutter over the top of the photo, then trace around the cookie cutter with a pen or pencil.
Cut out the photo.
Cut a piece of ribbon and feed it through the cookie cutter. Tie a knot or a bow in the end and use a dab of glue to secure it in place.
Run a small bead of glue along the back rim of the cookie cutter. Place the photo over the glue to secure it in place.
Glass photo ornament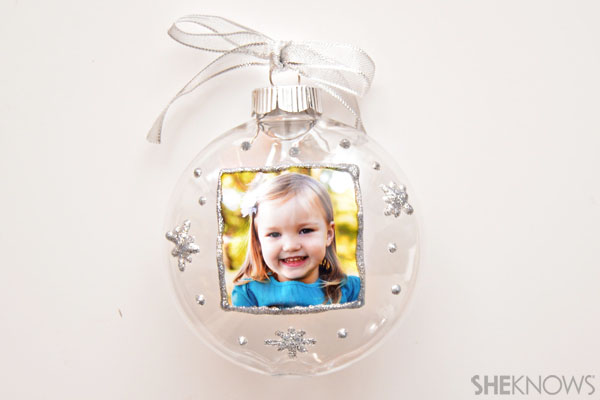 Supplies:
Glass or plastic ornament
Photo
Scissors
Mod Podge
Paintbrush
Puffy paint
Directions:
Cut out the photo so that it is small enough to fit on the front of your ornament.
Paint the back of the photo with Mod Podge, then adhere the photo to the ornament.
Once the Mod Podge has dried, trace around the photo with puffy paint.
Decorate the rest of the ornament with designs, such as stars or snowflakes.
More holiday crafts for kids
Easy Christmas crafts for kids
Edible Christmas crafts
3 Easy snowflake crafts for kids