Pregnant Celebrity
Photo Gallery
Happy Wednesday Hump Day — also known to us as Celebrity Baby Bump Day! What was in the water in Hollywood this week? We have a whole new crop of pregnant celebrities, including Scandal star Kerry Washington, who dressed her baby bump in a black floral dress as she hosted Saturday Night Live. Newly pregnant Kristin Cavallari was spotted in a pretty peach dress, while Drew Barrymore revealed her baby bump for the first time in a flowing frock. Olivia Wilde and Gwen Stefani round out our list of the cutest pregnant celebs of the week.
(page 3 of 5)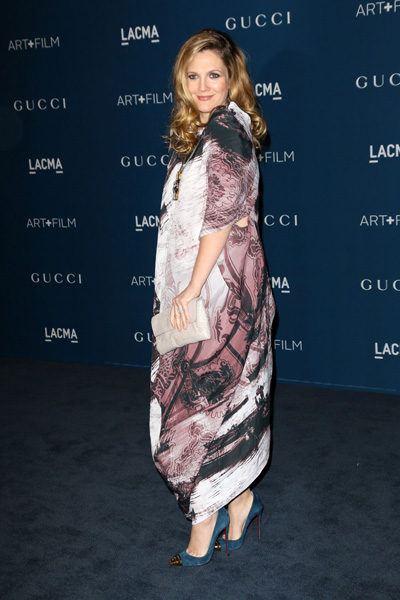 Drew Barrymore
Drew Barrymore hinted last month to Jay Leno on The Tonight Show that she wanted to get pregnant "right away" — and she did! The 38-year-old star and her husband, Will Kopelman, will be parents for the second time. Their daughter Olive is 1 year old.
Much like her first pregnancy, Barrymore isn't one to display her baby bump in a revealing dress. She kept her pregnancy curves concealed in a flowing dress on Nov. 2 at the LACMA Art+Film Gala.
What was the rush to get pregnant again? Barrymore said that she grew up as an only child and she wanted Olive to have a sibling to play with.
"I grew up as an only child, and although that really works for some people and for some parents that's the way they want to do it.
"I want the kids in the back rolling their eyes at mom and dad. I want Rusty and Audrey, theme parks and the whole nine," she said, referring to the Griswold family from the National Lampoon Vacation movies.
Next up: Pregnant Gwen Stefani is a bohemian mama