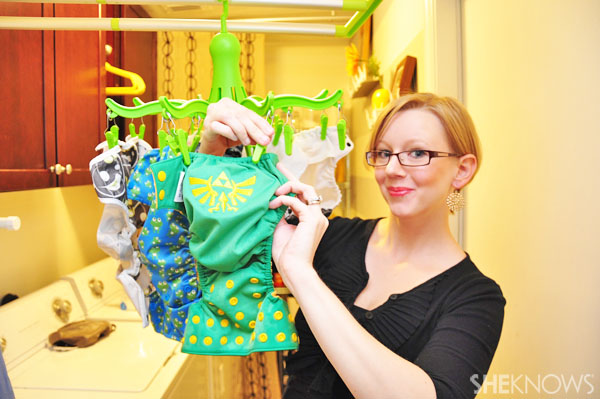 Kim Rosas lives in Tampa, Florida with her husband and two kids — Fletcher, who is 5, and Everett, who is 3. As with many mommy bloggers, Kim's blog, Dirty Diaper Laundry, was inspired by her journeys with her own children. What she has learned over the last five years — and shared with her followers — has helped countless families learn about cloth diapering. This is her story.
A cloth-diapering mom
Kim's first baby, Fletcher, was born in November 2008. During her pregnancy, she had pondered diapering and wasn't looking forward to throwing away hundreds of disposable diapers over the course of her baby's first few years. Thanks to an online message board, she had discovered modern cloth diapers, and began her research in earnest. After discussing it with her husband, she made her decision — only cloth diapers would be used in her family.
After Fletcher's umbilical cord stump fell off, Kim donned him in a tiny cloth diaper and never looked back.
Her first cloth diaper stash was, by her description, humble. "I procured about eight bumGenius 3.0s that were used," she explained. "I ordered a dozen preemie prefolds seconds, 2 dozen small prefolds, and my covers were all purchased used from a semi-local diaper shop." The bumGenius pocket diapers — now on version 4.0 — wick away moisture from baby's bum to an absorbent insert located in a sleeve, or pocket, and remain a popular choice for cloth-diapering moms.
There are a dizzying array of different types of cloth diapers — different brands, styles and materials. Some types that are perfect for one family may not work for another, and this was an important lesson that Kim learned. "I was continually learning about new brands and styles during his two years in diapers," she explained. "I almost always took away from our experiences that for every diaper I didn't like, at least one person must have, because they created it."
Inspiration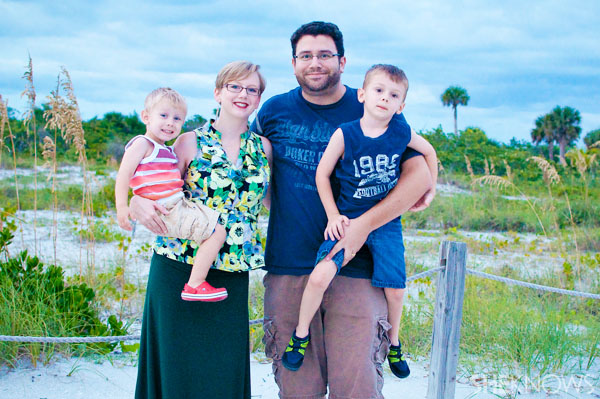 In 2009, a company that is now called Gro-Via introduced a brand new type of cloth diaper — an all-in-two (AI2). By that time, Kim was a member of a cloth-diaper forum, and information about this new type of cloth diaper was posted. "The forum buzzed with excitement," she remembered. "What is this thing? How will that work?! What do you do with it?"
Kim knew that, like many, she didn't have an easy ability to go examine one in person. Cloth diaper stores were few and far between in 2009, so most parents couldn't pop out to examine one in person. "That night, I laid in bed and came up with the idea to buy that diaper and video it, then post to a blog," she shared. "I could keep videoing these new diapers and posting reviews and demonstrations. Any parent who wanted to 'see' a new diaper could on my blog."
And thus, Dirty Diaper Laundry was born.
The birth of a blog
Kim started out with a definite idea of what she wanted the blog to become, and has succeeded. "I had a very clear vision from the start of creating a library of cloth diaper videos," she explained. "As time went on I added more content to the blog but have stayed true to filming diaper demonstrations. I have 170+ cloth diaper demos and over 300 videos total at this time. If you like stats, that is over 11 hours of footage for cloth diaper reviews alone! And people have spent over 2 million minutes watching my videos, which equates to over 3 years total."
"I believe in research and discovering what works best. Take all cloth diaper information and suggestions with a grain of salt."
Kim saw a need for information and responded to it, but she acknowledges that the cloth diaper information market is as saturated as the actual diaper market itself. "Parents are greeted with more information than they can read in one day, or even a week, probably even a month!" she shared. "My blog alone boasts over 1,000 blog posts and most are cloth diaper related."
To help new parents find what they're looking for, she's condensed the beginner "getting started" resources into one area on her blog. "More than anything, I like to let new-to-cloth parents know that not all information is good," she explained. "I believe in research and discovering what works best. Take all cloth diaper information and suggestions with a grain of salt. I'm most proud of the fact that I am an impartial member of this amazing community. Unlike a store's or Manufacturer's 'Cloth 101,' I am NOT selling you diapers. I will not give advice or recommendations that I don't believe in because why would I?"
Behind-the-scenes at DDL
In the early days, Kim spent time 'pounding the pavement,' only virtually instead of literally. Her first videos were exclusively diapers she owned or purchased for review. Over time, she began to realize that companies would send her free diapers for feature and review.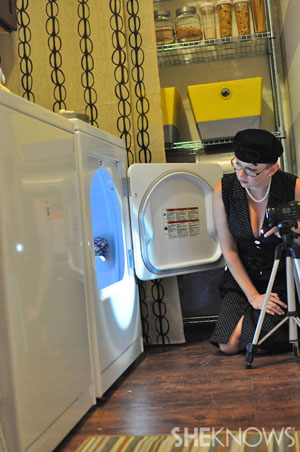 "Making connections in the industry, being active on Twitter and later Facebook with them — these things forged relationships," she explained. "Brands started giving me first looks or sending diapers on their release to review. It took a long time to get to that point and I often forget that I'm lucky now, but it was earned."
Kim loves what she does, definitely. "I wouldn't keep working for (almost) free if it weren't a fulfilling and enjoyable job," she shared. "I love working in this community. I get satisfaction from knowing that what I do helps so many people begin and sustain their cloth diaper journey."
It is not without its challenges, however. "I didn't start a blog to become a social media expert (which I am not) nor an online 'celebrity' (which I'm also not!)," she said. "I'm always shy about self-promotion yet to some degree, you have to 'toot your own horn' to continue growing your website. Of course, there are times when a blog post or status share gets negative or even rude comments from trolls. These can bring you down. I've taken a few short blog breaks for various reasons over the years to recharge and refresh after that defeated feeling but so far I've always bounced back."
However, the rewards are immeasurable. The positive feedback and the 'thank you's' are wonderful for her to hear. "Knowing people are seeing that information and being successful at cloth diapering recharges my batteries the most," she told us. "I started this journey hoping to help prevent more disposable diapers from making it into landfills. Over time that mission has morphed — now my mission is to educate and empower families to cloth diaper who need that money savings. Between my Flats and Handwashing Challenge, the recent free booklets I've released for educators and individuals on how to cloth diaper inexpensively and the time I volunteer helping Giving Diapers, Giving Hope — I'm keeping busy these days. I get the most satisfaction from using my knowledge and experience to educate families on why using cloth diapers can give them peace of mind and free up that money to use on more important things."
More on cloth diapering
Cloth diaper tips from the pros
Why moms choose to cloth diaper
Diaper duty: One mom's mobile business