Pregnant Celebrity
Photo Gallery
Happy Wednesday Hump Day — also known to us as Celebrity Baby Bump Day! We have rounded up the cutest pregnant celebrities of the week, including Mrs. Christian Grey. Jamie Dornan, the hunky actor who was just tapped to play Christian Grey in Fifty Shades of Grey, was spotted out with his pregnant wife, as was newly-pregnant actress Olivia Wilde. Rachel Zoe showed off her baby bump in a Cher-inspired Halloween costume (with Kate Hudson!) while pregnant Danielle Jonas and Kate Winslet round out our list of the cutest pregnant celebrities of the week.
(page 4 of 5)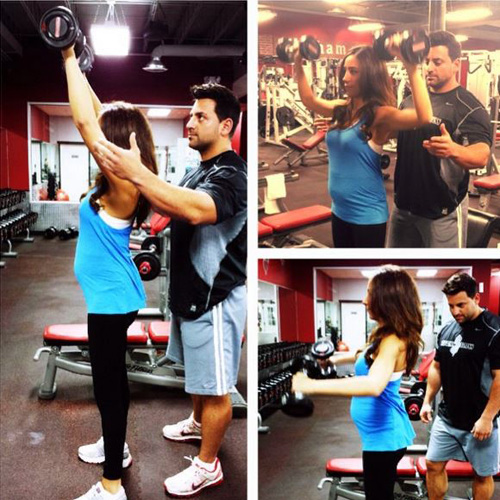 Danielle Jonas
While news broke that The Jonas Brothers have officially broken up, Kevin Jonas' pregnant wife, Danielle Jonas, is focusing on staying healthy for her baby.
"My belly! and my muscles getting big with Anthony Michael!" she wrote on Instagram on Oct. 24, sharing this photo of her working out and using the hashtag "preggoproblems."
Wearing a blue tank top and black leggings, Jonas works out with weights as her trainer helps spot her.
Kevin Jonas, in the meantime, has a lot on his plate as he is gearing up to be a dad, while the band he has been in since 2005 with his two other brothers, Joe and Nick, have called it quits. They cancelled their 19- date tour earlier this month and now they are calling it quits for good.
"There is a deep rift within the band," the band's publicist told Us Weekly. "There was a big a disagreement over their music direction."
Jonas and his wife are expecting their first child, a baby girl, in January.
Next up: Pregnant Kate Winslet looks chic in Seraphine's maternity jeans