Pregnant Celebrity
Photo Gallery
Happy Wednesday Hump Day — also known to us as Celebrity Baby Bump Day! We have rounded up the cutest pregnant celebrities of the week, including Mrs. Christian Grey. Jamie Dornan, the hunky actor who was just tapped to play Christian Grey in Fifty Shades of Grey, was spotted out with his pregnant wife, as was newly-pregnant actress Olivia Wilde. Rachel Zoe showed off her baby bump in a Cher-inspired Halloween costume (with Kate Hudson!) while pregnant Danielle Jonas and Kate Winslet round out our list of the cutest pregnant celebrities of the week.
(page 2 of 5)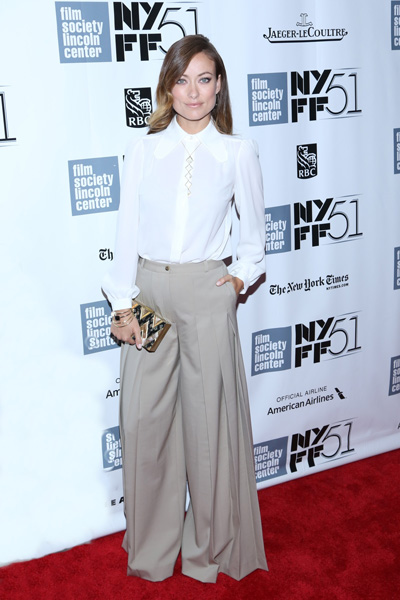 Olivia Wilde
Baby bump watch! Actress Olivia Wilde just announced that she and her fiancé, Saturday Night Live alum Jason Sudeikis, are expecting their first child together.
The 29-year-old actress dressed her newly-pregnant bod in flowing tan pants and a white blouse on Oct. 14 during the New York Film Festival as she premiered her new movie Her, with co-stars Joaquin Phoenix and Amy Adams.
Wilde and Sudeikis got engaged in January 2013, after dating for one year, and she recently hinted that she was ready to start a family with the Meet the Millers funnyman.
"I am not trying to have kids now — there's no strict plan for anything in my life. What happens, happens," she told Marie Claire magazine in April. "He's so good with kids... I've never before experienced looking at someone and thinking, 'That's who I want to raise a child with.'"
She recently took to Twitter to thank everyone for the well wishes. "WOW. You guys are awesome. So kind. Thank you thank you thank you! PS. Babies eat mostly salsa right?" she wrote.
Next up: Check out pregnant Rachel Zoe's Halloween costume