Pregnant Celebrity
Photo Gallery
Happy Wednesday Hump Day — also known as Celebrity Baby Bump Day, where we round up photos of the cutest pregnant celebrities of the week! This week we have two new additions to our list, with the newly pregnant Melissa Rycroft and Kendra Wilkinson. Stylish moms-to-be Rachel Zoe and Gwen Stefani were spotted comparing baby bumps at The Performing Arts Inaugural Gala, while Kim Zolciak, who is due next month with twins, shares her bare baby bump.
(page 5 of 5)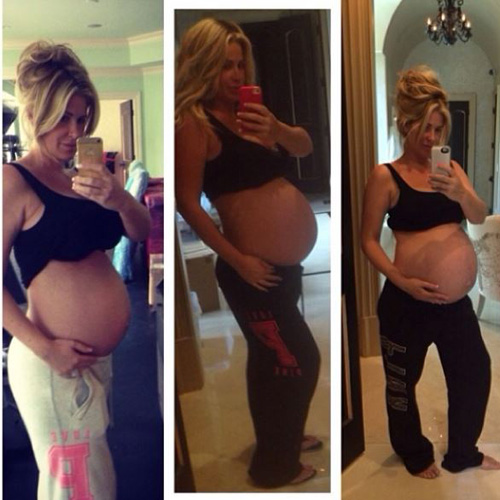 Kim Zolciak
Real Housewives of Atlanta star Kim Zolciak shared this photo collage of her baby bump on Instagram, writing, "My bump today!!!! What an incredible miracle! I am so blessed and grateful! Don't know if ill ever get over the fact their is 2 babies in my tummy I'm still in shock lol!! Can't wait to find out what we are having! I'll meet my beautiful angels next month!!'
Zolciak, who is married to NFL player Kroy Biermann, already has four children, including 16-year-old Brielle, 11-year-old Ariana, 2-year-old KJ and 1-year-old Kash.
The Don't Be Tardy reality star told a fan on Twitter that she is not planning on having any more kids after her twins are born in November. "I really hope one of your twins is a girl or else you may turn into the Duggar woman with all these kids!" Erika T. wrote to Zolciak.
"No ma'am. Either way I am closing up shop!" Zolciak replied.
Zolciak said in an interview in June that she was "completely shocked" to learn she was pregnant with twins. "It was a natural conception, but twins do run in the family, so I guess I shouldn't have been surprised," she said.
Photo of Kim Zolciak courtesy of her Instagram; All other photos WENN unless noted otherwise