Pregnant Celebrity
Photo Gallery
Happy Wednesday Hump Day — also known as Celebrity Baby Bump Day, where we round up photos of the cutest pregnant celebrities of the week! This week we have two new additions to our list, with the newly pregnant Melissa Rycroft and Kendra Wilkinson. Stylish moms-to-be Rachel Zoe and Gwen Stefani were spotted comparing baby bumps at The Performing Arts Inaugural Gala, while Kim Zolciak, who is due next month with twins, shares her bare baby bump.
(page 4 of 5)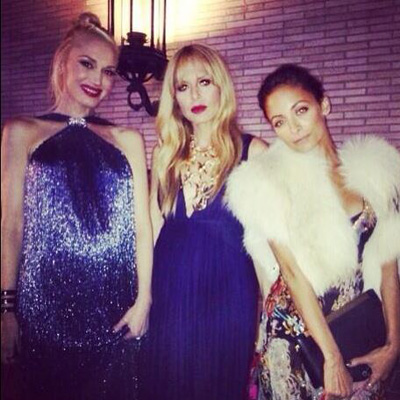 Rachel Zoe
Stylish moms!
"I mean, we're kind of the next Charlie's Angels no?" tweeted Rachel Zoe, sharing this photo of her with pregnant Gwen Stefani and Nicole Richie at the Wallis Annenberg Center For The Performing Arts Inaugural Gala.
The 42-year-old celebrity stylist and her husband, Rodger Berman, are expecting their second child together. Their stylish son Skyler is 2 years old.
Zoe, who dressed her baby bump for the event in a black flowing gown with a plunging neckline, recently revealed that she has no pregnancy cravings, calling it "the strangest thing ever."
"I didn't have [cravings] in my last one and I just don't have that. I almost have the reverse — I don't like the things I normally do," she confessed.
"Anything sweet is disgusting," she went on to say. "It's weird."
Next up: Kim Zolciak's twin baby bump
Photo credit: Rachel Zoe Instagram