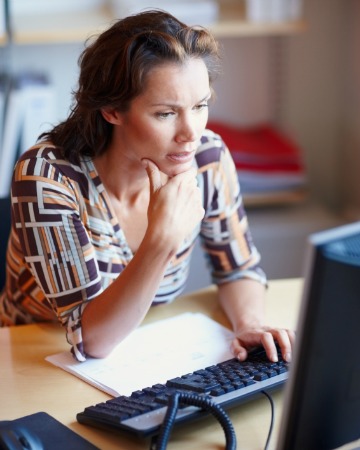 The rise of the online milspouse bully
"Why are Army wives fat? You have the same benefits as us (us meaning military personnel), why don't you use them?" That was the message I came back to yesterday in my inbox after running errands all day.
The message was from a member of the U.S. Army who for some reason thought that this was the most appropriate question of the day to ask.
Not exactly unexpected
I don't know why I was shocked. As a well-known military spouse lifestyle blogger I am subject to cyber ridicule every day. Just a few months ago I woke up to my picture splashed on a military bashing page with over 400,000 people belittling and insulting me.
Being the transparent person that I am I took no shame in showcasing a picture on my Facebook fan page of me lying on the ground (after I had fallen) at a "learn how to pole dance" birthday party. However, my transparency took on a different form after that picture was shared and I was called every name from Shamu to Orca to a fat b**** — and even worse names that I wouldn't dare write here. Yet still, I learned a long time ago that those types of attacks come with the job of a blogger. When I opened up my life online I opened the doors for people to say vicious things about me — whether it was right or wrong.
Cyberbullying in the online military community
But what about the military spouses who never opened themselves up to this kind of taunting and mockery?
Unfortunately, cyberbullying is real and surprisingly a huge form of it is taking place in the online military community. Pictures of military spouses are posted on Facebook pages where people make fun of their appearance and call them degrading names. Some members of these pages take it as far as to stalk and privately harass these individuals to the point of having to get the authorities involved. I knew that this type of bullying had gone too far when I started receiving emails from military spouses who sounded like they were at the end of their ropes. These women were being bullied, degraded and harassed. When they couldn't turn to their other halves, due to deployments, they thought they could seek out the virtual support of people who share the same lifestyle challenges. Instead, many are tormented and made fun of for asking questions or sharing how much they miss their loved one.
Dependapotamus
There is already a stigma associated with military spouses that depicts us as overweight, lazy and, uneducated, and also as baby makers. One popular word that has made its way into non-traditional online dictionaries is "dependapotamus." This is a play off the word "dependent" which is used in the military community to identify immediate family members of military personnel, whom these bullies feel fit the above depiction. Many stay-at-home military spouses have expressed their disdain and resentment for being made fun of for staying home with their children, especially with one parent who is gone frequently. Other spouses report not wanting to leave the home dressed casually in fear of being displayed on a bashing page and poked fun at for their physical appearance.
Words can hurt
Before other military members and dependents join in on these bash fests they should take note that, while some people may be able to let insults and degrading remarks roll off their backs, many people have a hard time processing this type of taunting. The online military community that participates in these witch hunts apparently has no clue about the type of mental stress they are adding to a wife or husband who is already dealing with the sometimes arduous lifestyle we and our loved ones lead. How does one know that the person they are making fun of didn't just go through a personal tragedy, or has a medical or family issue that is prevents them from doing the very things some are making light of?
Unfortunately, it's only a matter of time before the wrong person is made fun of and chooses to deal with it in a tragic way.
More about military families
Military homecomings: It's not always like what you see on TV
6 Ways to keep the fire burning during deployments
How being married to the military is different than civilian marriage