Pregnant Celebrity
Photo Gallery
Happy Wednesday Hump Day or, as we like to call it, Celebrity Baby Bump Day! This week's photos of the cutest pregnant celebrities include Emily Blunt, who is finally starting to show. Pregnant Kate Winslet looked radiant in a red gown at her movie premiere, while Kim Zolciak showed off her twin baby bump in a black maxi dress. Pregnant moms-to-be Gwen Stefani and Rachel Zoe round out our list of the cutest expecting stars of the week.
(page 3 of 5)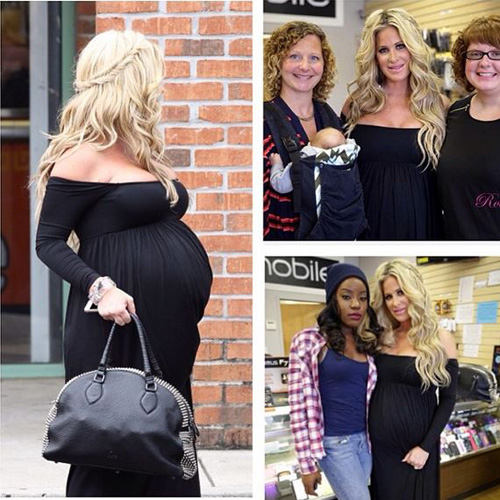 Kim Zolciak
Due next month with twins, Real Housewives of Atlanta star Kim Zolciak shared this photo of her in a black maxi dress while at a fundraising event for the Atlanta Community Food Bank.
"I had a lot of fun yesterday!" she captioned the photo. "My Belly has gotten soooo big and HEAVY! I loved meeting my fans especially this 3 month old little angel! #duenextmonth #twins."
The 35-year-old has two sons (2-year-old Kroy Jr. and 1-year-old Kash) with her husband Kroy Biermann, as well as two daughters (12-year-old Ariana and 16-year-old Brielle) from a previous relationship.
Zolciak did say she was "completely shocked" at the pregnancy. "It was a natural conception, but twins do run in the family, so I guess I shouldn't have been surprised," she said.
In the meantime, the Don't Be Tardy star said she is feeling the effects of being pregnant with twins.
"My belly has really slowed me down!! I have never been one to sit on the couch and relax but these babies got me moving slow!" she recently tweeted.
No word yet on the sex of the babies and we can't wait to find out if she will keep with the "K" baby name theme.
Next up: Pregnant Gwen Stefani wears a cheetah print sweater
Photo credit: Kim Zolciak Instagram