Halloween costumes for all ages
Homemade Halloween costumes are awesome, but not all of us are crafty Pinterest moms. Fortunately store-bought costumes aren't all tacky or flimsy.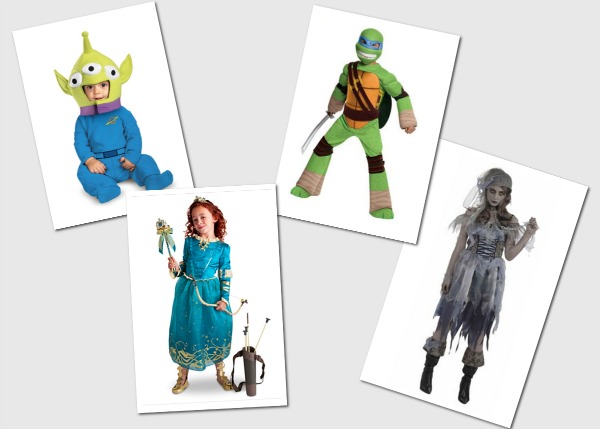 Halloween costumes for babies
There's nothing cuter than a baby all dressed up for Halloween. Choose from traditional baby costumes (such as a big round pumpkin) to your favorite TV and movie characters. We love the Toy Story alien baby costume (Spirit Halloween, $25) if your little one can tolerate having his head all wrapped up. Also, this crocheted Despicable Me minion costume (Childish Dreams Etsy shop, $19) is oh so adorable for a newborn.
Halloween costumes for preschoolers
For preschoolers, you can't go wrong with Doc McStuffins, Sofia the First, Thor (Disney Store, $50) or Jake and the Never Land Pirates. The Teenage Mutant Ninja Turtles are back with a vengeance too, and are a top choice for preschoolers. Snag this highly rated Leonardo costume (Spirit Halloween, $40), complete with a turtle shell and mask.
Halloween costumes for young kids
Every Halloween superheroes and Disney princesses are popular with young kids. This year, Brave's Merida (Disney Store, $34) is one of the hottest choices. Also consider costumes based on your kids' favorite video games. Check out the Skylanders costumes (SkylandersCostumes.com and Amazon, $25+) available for kids of all ages from infants to teens.
Halloween costumes for tweens and teens
For tweens and teens, it's a mixed bag when it comes to Halloween costumes. Some love the classics (like Superman and Wonder Woman) while others go for more modern choices. Of course, zombie costumes (Wholesale Halloween Costumes, $30) are a hit this year, considering the popularity of shows like The Walking Dead. The characters from Adventure Time and the Regular Show are also trendy. We love the Adventure Time Ice King (Spirit Halloween, $50) for teens and adults too.
Halloween costumes for groups
Group costumes are always fun — whether it's a group of friends, siblings or a whole family that are dressing up together. The aforementioned Ninja Turtles are a cool choice for a group of kids. Kids might also like to dress up as the characters from Monster High or Power Rangers. For families, The Wizard of Oz, The Flintstones or The Addams Family are cool options.
Giving back at Halloween
Spirit Halloween has teamed up with Saban's Power Rangers Megaforce to host their annual Spirit of Children Week, held the week of Oct. 14. During this period, they host more than 80 Halloween events at hospitals throughout the U.S. and Canada to allow pediatric patients (and their families) to experience the joy of Halloween through costumes, decorations and special activities. You can contribute to the cause at one of the 1,050 Spirit Halloween stores. This year, Spirit of Children's goal is to raise $5 million — bringing its total contribution to more than $16 million donated since the program's inception.
More about Halloween
Top Halloween party songs for kids
Halloween costumes for real moms' bodies
DIY Halloween costume accessories