Family, in the raw
Duck Dynasty represents everything I want my life to be. The Robertson family loves the outdoors, appreciates their blessings, works hard, values family and can laugh at themselves. What's not to love? When it comes down to it, Duck Dynasty inspires me to be a better parent.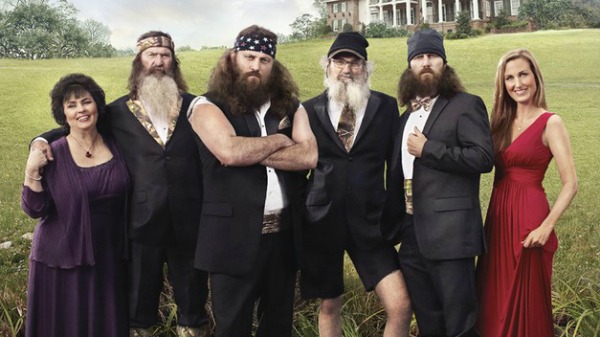 Truth be told, I cannot turn away from Duck Dynasty. Even amongst rumors of it being scripted and criticism over supposedly "sexist" comments, I always walk away with a new chunk of parenting wisdom, albeit from the most unexpected sources.
Genuine, not superficial
One look at the Robertson clan will tell you that appearances can be deceiving. Their scruffy beards and camouflaged attire may be off-putting to some, but these guys aren't putting on a show. As this family traipses through the mud and slurps up copious amounts of sweet tea and crawfish, I am reminded that all the effort I put into making sure life looks "shiny" from the outside is time wasted. Perhaps this concept is best summed up metaphorically by the family's patriarch, Phil Robertson, when he says, "The more makeup a woman wears, the more she's trying to hide."
Responsibility
Teaching kids responsibility is less of a classroom lesson and more of a life lesson. My husband and I work hard to ensure our children live lives of relatively ease — which is generally viewed as a positive — but sometimes, an "easy" life makes responsibility seem less important. Duck Dynasty provides the little slap I need to refocus my efforts on self-sufficiency and responsible living. As Phil so aptly stated, "Uptown living, you've got to call 911. Where I am, I am 911." Yes, kids, it's always best to assume responsibility for your own safety, well-being and livelihood. Pretty simple.
Law of the land
Rules. For some, they are a forgotten concept. One visit to the park or grocery store will typically provide enough proof of this. Kids will push their boundaries at every opportunity and a complete lack of boundaries is a recipe for disaster. While it is often more difficult to establish and enforce rules, it is always the best course of action for long-term success. Duck Dynasty inspires me to articulate my expectations of my children, as well as the consequences for disobedience. "We had a code," Phil recently told the FOX 411 entertainment blog. "I told them that I'd give them three licks if they disrespected their mother, if they were fist-fighting with each other, and if they ever tore up perfectly good equipment for no good reason."
Show up and do your part
It's pretty clear that the Robertsons embrace what most would call "traditional" family roles. The women support their men, cook and shape their family culture. The men work hard, provide for the family and enforce the rules. Grandparents are involved in raising the kids and teaching life lessons and the entire family eats together and prays together. How often does that actually happen these days? Not often enough. At the close of each episode, as the family gathers around a table full of comfort food, I suppress my thoughts of the average caloric intake and think about how wonderful it would be if we could all just slow down, pull up a chair and enjoy each other's company on a nightly basis. We can all dream.
I understand that Duck Dynasty is controversial, but consider the fact that the Robertson kids respect their elders, the parents are involved and the grandparents pass wisdom on to their grandkids. Yep. Duck Dynasty demonstrates parenting done right.
Image credit: A&E
More about parenting role models
Duggar-style parenting tips
The Duggar family and other big families
Who is Jenny McCarthy's parenting role model?