Unique Pregnancy
Halloween Costumes
Don't hide your baby bump this Halloween, make it part of your costume! From movie-inspired pregnancy costumes (Juno! Castaway!) to cool painted baby bumps, check out our pick of 10 creative ways to dress your baby bump this Halloween.
Juno and Bleeker
This pregnancy Halloween costume is inspired by the 2007 movie Juno, starring Ellen Page and Michael Cera. Not only is this such a creative costume for pregnant moms, it is easy to make and you can get your significant other in on the fun by dressing him as Bleeker! This costume was actually entered in Costume Work's Halloween Costume Contest last year and won 10th place. You can submit your own costume into their 2013 Halloween Costume Contest costume and win lots of cool prizes. (Photo: Costume Works)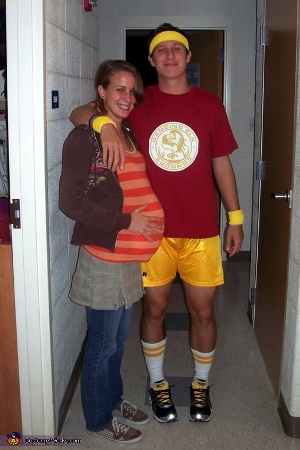 Trick-or-treating fetus
Looking for a costume that is more creepy than cute? This baby was so eager to go trick or treating that he busted right out of her belly! You could always tone down the creepy factor by leaving out the blood. "The costume was definitely inspired by our son's behavior in the womb," said Jarrod, who shared his wife's Halloween picture. "He had been acting like he wanted out of there for months already, so it made sense that he would be really excited about getting out for Halloween. My initial idea was just the arms reaching out, but when my wife suggested the tiny little pumpkin bucket I knew that would add just the right amount of sweetness to an otherwise pretty gory concept. I think it was a perfect balance, certainly evidenced by the wide range of reactions she got from trick or treaters." (Photo: WENN)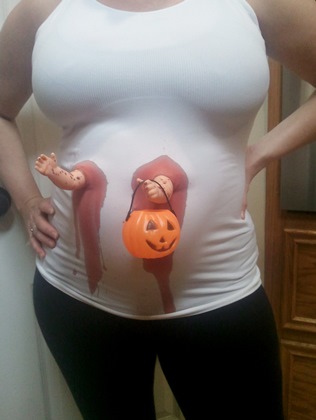 Pregnant mummy!
This mummy costume is perfect for mums-to-be, including Jessica Simpson — who used this Halloween costume to announce on Halloween of 2011 that she was pregnant.
"It's true! I'm going to be a mummy!" she tweeted, sharing this photo of her wrapped up like a mummy in white lace as she cradles her baby bump. The pale makeup, smoky eye makeup and big hair completes her yummy mummy look. She gave birth to her first daughter, Maxwell Drew, on May 1, 2012. (Photo courtesy of Jessica Simpson Twitter)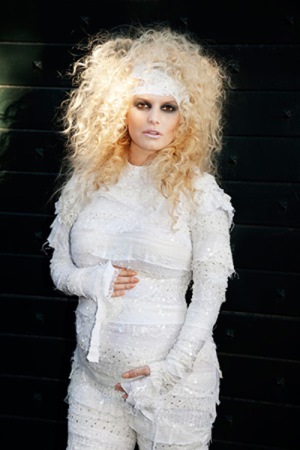 Mother Earth
Let your artistic juices flow by letting your baby bump be your canvas, as writer Maureen Wallace did! Pregnant with her third child, she enlisted the help of her husband, who used a photo of the Earth to paint his masterpiece, using non-toxic paint.
Get detailed instructions and more fun maternity Halloween costumes over at AllParenting >>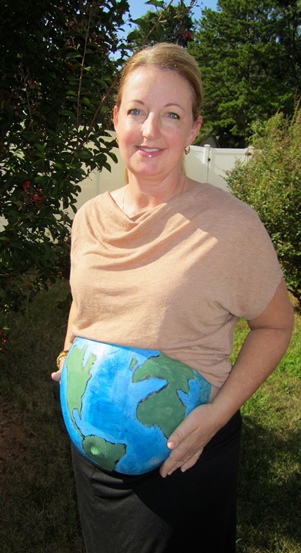 Baby bump beer gut
Looking for a pregnancy Halloween costume that will get some serious LOLs? Why not turn your baby bump into a hilarious beer gut? The mom-to-be tucked her hair under a hat, penciled in facial hair and let her baby bump hang out of a white tank top. (Photo by pinner Krista U: www.pinterest.com/pin/105975397451562554/)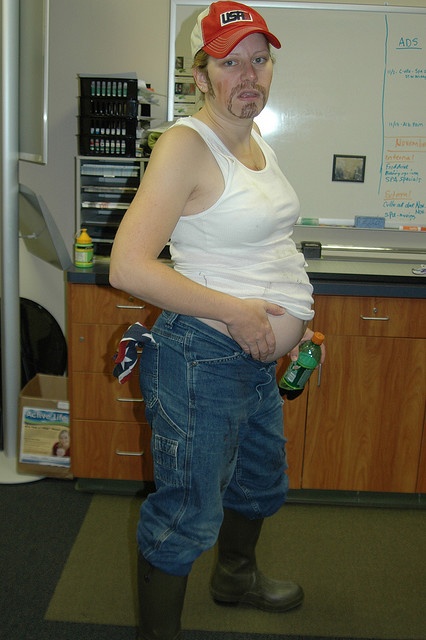 Monsters, Inc. mom-to-be
This costume is a great idea for pregnant moms, especially if you have a little tot that you want to get in on the fun that loves Monsters, Inc.! Dress your baby bump in a green Mike Wazowski shirt, while your child looks adorable as his good buddy, the blue monster Sully. (Photo by pinner Rebecca Duff: www.pinterest.com/pin/218495019395144756/)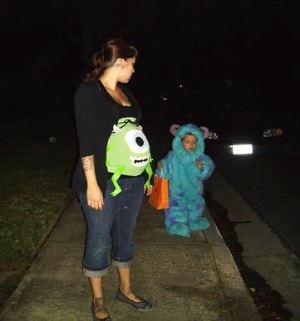 Next up: See more unique and fun pregnancy Halloween costumes