Unique Pregnancy
Halloween Costumes
Don't hide your baby bump this Halloween, make it part of your costume! From movie-inspired pregnancy costumes (Juno! Castaway!) to cool painted baby bumps, check out our pick of 10 creative ways to dress your baby bump this Halloween.
(page 2 of 2)
Bun in the oven
This outfit is perfect for couples! You have a bun in the oven, so why not make it part of your Halloween costume? You can pick up this Bun in the Oven costume (CouplesCostumes.com, $41) with the matching "Bun Maker" apron and chef's hat (CouplesCostumes.com, $33). This would also be a fun way to announce your pregnancy news!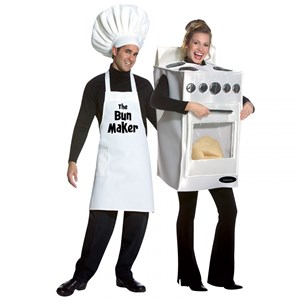 Belly baller
Feeling sporty? Paint your baby bump like a basketball and have your man throw on his favorite referee outfit for a fun and unique couple's Halloween costume. "My wife is 9-months pregnant and we've been searching for cool ways to show off her belly, and this is one of the ways we came up with!" Josh told Costume Works. "It looks soooo real! So many people didn't even realize it was her belly!" (Photo courtesy of Costume Works)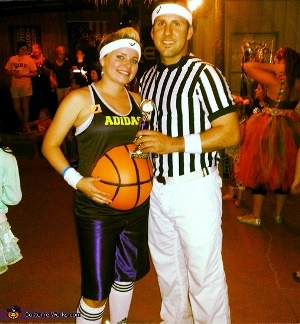 The Wilson volleyball from Cast Away
This fun pregnancy Halloween costume is inspired by the 2000 movie Cast Away, starring Tom Hanks. In the movie, he was marooned on a deserted island with no one to talk to but his Wilson volleyball, which he painted a face on. This pregnancy Halloween costume idea would be fun and easy, as you can either paint your belly or paint a white tank as Wilson. Cute! (Photo by pinner Ashley Goff: www.pinterest.com/pin/473511348291453062/)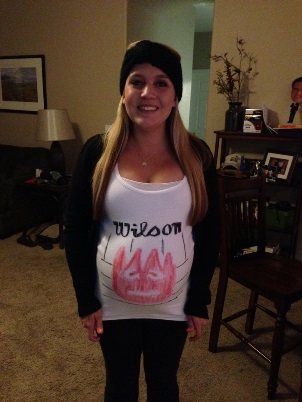 Rasta prego skeleton
The cool makeup and dredlock wig turn this cute skeleton T-shirt into an awesome maternity spook! "As you can see I was 7-months pregnant and had little energy to come up with a cosutme but was able to put this together in 25 minutes," Andrea told Costume Works. "I wanted to incorporate my daughter and feel that this costume was the cutest and scariest mother and daugther I've ever seen." You can pick up the Maternity Skeleton Shirt (Spreadshirt, $31) and scare up some baby bump attention! (Photo courtesy of Costume Works)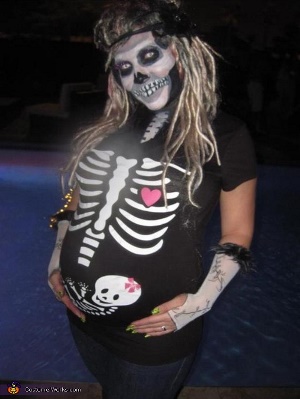 Tell us: What is your favorite pregnancy Halloween costume? Weigh in below!
More Halloween fun
How to make a cupcake Halloween costume
Top Halloween party songs for kids
10 Creepiest baby Halloween costumes