Scary Costumes
For Kids
Warning: These baby costumes aren't for the squeamish. Most people like to dress their baby up in a cute bumblebee costume or as a pretty princess…unless you are these parents! If your taste in Halloween costumes is more scary than sweet, you will love our round-up of the creepiest baby Halloween costumes.
(page 2 of 2)
Scary Scarecrow
What was the inspiration behind this scary scarecrow? Mom Lisa said the dad always dresses as a scary scarecrow for Halloween, so 3-month-old Cameron is following in his creepy footsteps! "The mask is homemade out of leather, cheesecloth and liquid latex and painted creepy with raffia as the hair. The mask is lined with soft, black fleece and was very comfortable for him to wear. The black shirt has burlap glued to it and the "rice paddy rake" was used as a hayfork since it was the right size," she told Costume-Works.com. (Photo courtesy of Costume Works)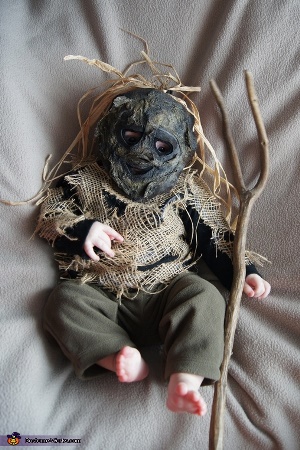 Baby Edward Scissorhands
The only two people that can make this creepy Edward Scissorhands costume look cute are a tiny tot…and Johnny Depp. "The blades are made of plastic and foam, and mounted on modified shin guards (so Gabe can have his hands free for trick or treating of course!)" his mom said, of her "pocket-sized Edward Scissorhands." (Photo courtesy of Costume Works)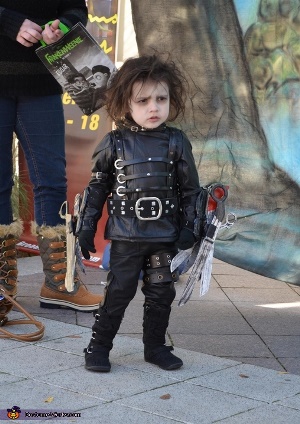 Zombie mom
This creepy costume works well if you are trick or treating with your baby in a front carrier, such as the Baby Bjorn. This Zombie mom has her baby busting out of her bloody shirt… and it looks like he is nibbling on a brain for a treat. Yum. (Photo from pinner Tiffany Caler: www.pinterest.com/pin/137430226102162786/)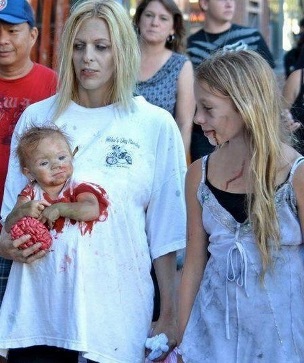 Lobster baby
This Lobster baby costume is cute, but also a little creepy at the same time. Something about a cute baby teetering on a pot on the stove that makes most of us feel very uneasy! Yes, the baby is obviously fine, but it still creeps us out a bit! (Photo by pinner RJ: www.pinterest.com/pin/540783867724850076/)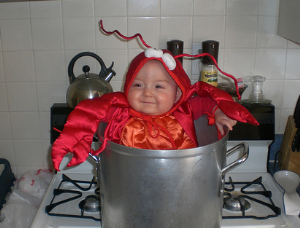 Tell us
What is your favorite creepy baby Halloween costume? Weigh in below!
More kids' Halloween fun
DIY Halloween costume accessories
Dog costumes to match the kids
Top Halloween party songs for kids