Put the writing
on the wall
If you're looking for a way to put gratitude into action in your family, this DIY chalkboard project is just what you need. After you build it as a family project, you'll have the perfect place to record your notes of gratitude.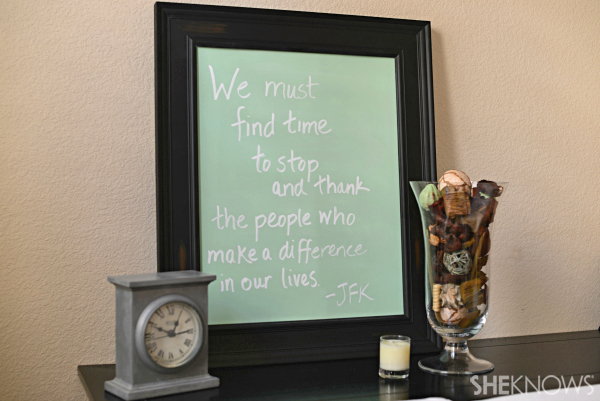 It never fails that at this time of year, we start to think more consciously about all the things for which we are grateful. And teaching our children to appreciate all of the wonderful things around them becomes just as important as appreciating them ourselves.
This chalkboard, hung in a traffic path, invites quick notes of gratitude. Leave a piece of chalk or chalkboard pen handy and you might be surprised at the notes you'll find waiting for you.
Tip: If you purchase your foam core at a larger craft store that offers framing services, be sure to ask if they offer free cutting services. While you can cut your own foam core at home to make it fit your opening, why not save that step if they offer this service?
Supplies: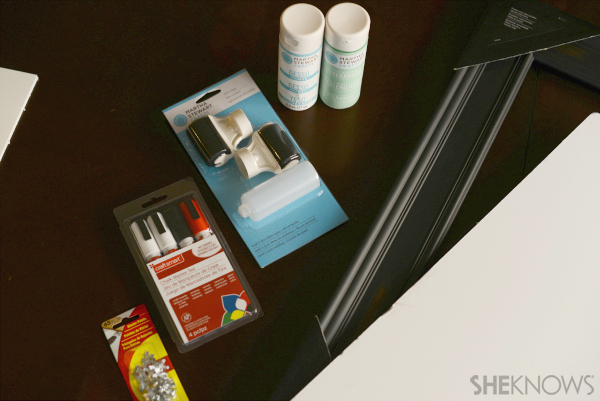 Backless frame in the size of your choice
Foam core larger than or same size as the opening in your frame
Gesso
Chalkboard paint
Paintbrush or paint roller
Glazer points
Chalk or chalkboard pen
Flat top screwdriver
Grocery bags or craft paper
Directions: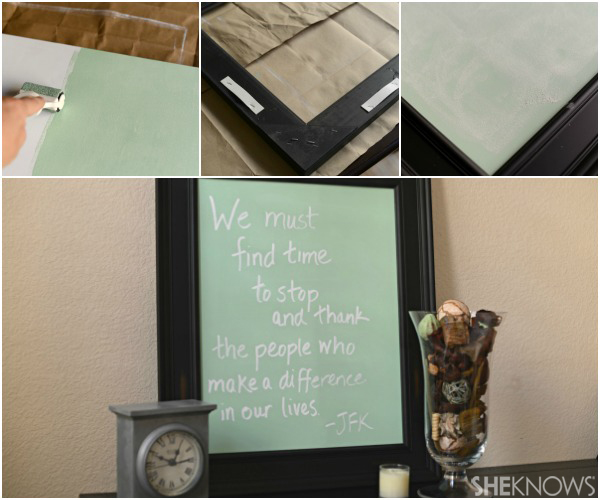 Set all supplies aside and protect your work surface with cut-open grocery bags or craft paper.
Trim your foam core to size or use a precut piece.
Lay your foam core atop your work surface and apply a coat of gesso to completely cover the entire surface.
Allow the gesso to fully dry (roughly one hour).
Once the gesso is dry, apply a coat of chalkboard paint to completely cover the surface and allow paint to dry fully (at least one hour).
Repeat 2 more times for a total of 3 coats of chalkboard paint. (Your foam core may bow a bit, but don't worry because it won't be a problem when mounted in the frame.)
Allow to dry for 24 hours to fully cure.
To condition the surface, lightly rub chalk over the entire surface.
Lay backless frame on a clean work surface, face down.
Insert painted foam core into the frame.
Use a flat head screwdriver to insert glazer points, roughly every 4 inches.
Hang your framed chalkboard on the wall.
Use a piece of chalk or a chalkboard pen to list those things for which your family is most grateful.
Repeat throughout the holiday season — and beyond!
More ways to foster gratitude in kids
A crash course in gratitude for busy families
Five ways to cultivate an attitude of gratitude
Practicing Gratitude: A little dinner conversation