Pregnant Celebrity
Photo Gallery
Happy Wednesday Hump Day or, as we like to call it, Celebrity Baby Bump Day! We have rounded up the cutest pregnant celebrities of the week, including Jennifer Love Hewitt, who looked casually cute in distressed maternity jeans. Pregnant Kate Winslet looked beautiful in a blue gown while promoting her latest film, while Denver Broncos hunk Eric Decker and his pregnant wife Jessie James showed off her baby bump on the red carpet. Danielle Jonas and Rachel Zoe round out our list of the must-see pregnant celebrities of the week.
(page 3 of 5)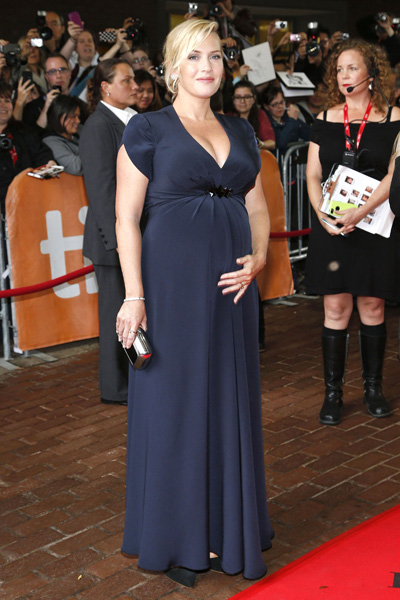 Kate Winslet
Pregnant Kate Winslet looked gorgeous in a blue gown while she promoted her new film, Labor Day, in Toronto. The 37-year-old Titanic actress is expecting her third child — her first with her new husband Ned Rocknroll, who is the nephew of Richard Branson.
Winslet has two other children from two previous relationships,  including her 12-year-old daughter Mia with her first hubby Jim Threapleton and a 9-year-old son Jon with her second hubby Sam Mendes.
The Oscar-winning star recently told Time Out that losing the baby weight is not a top priority for her.
"I don't want to spend time thinking about the size of my arse. I want to be healthy and I want to have as much fun as I can have," she said. "I want to be around for my children. That's it. Those are the priorities. Not getting a flat stomach."
She went on to say that she wants to be healthy, but doesn't plan on obsessing about it. "Don't get me wrong, I like staying fit and healthy, it's all part of a healthy attitude to life. I don't think I'm alone in this. I'm seeing more and more curvier actresses out there."
Next up: Kevin Jonas cradles Danielle's baby bump