Fine motor skills through play
Whether you're wanting to give your little one a head start or are working with kids with developmental delays, educational toys that focus on fine motor skills development wrap learning and fun in one!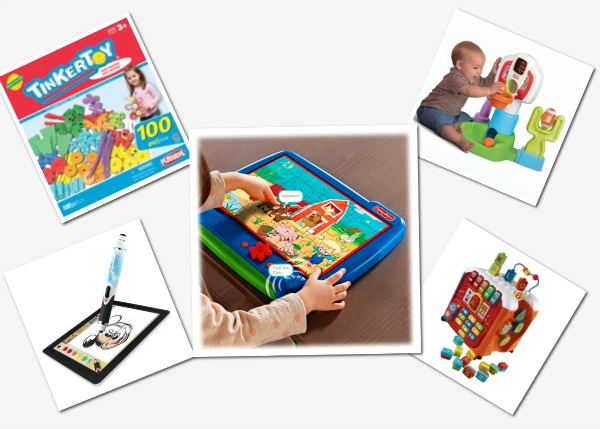 From classic Tinker Toys to new-age Fisher-Price I-JIG Interactive Jigsaw Puzzles, discover five toys that teach hand-eye coordination.
When the benefits of toys go beyond having tons of fun, it's a win-win for everyone, especially your youngster. "Skill-building at an early age is essential to kids' development," says Laurie Schacht, Toy Insider Mom and contributing toy editor at Woman's Day magazine. "Letting kids piece together puzzles, build with blocks and sort shapes are some of the most basic ways to get them on the right track in a fun, easy way." Check out these toys that help your kiddo develop fine motor skills, hand-eye coordination and more — including some top toy recommendations from thetoyinsider.com.
"If there's one toy category that covers a host of skills, it's construction toys — and if there's one that everyone knows, it's Tinkertoy," shares Schacht. "This is their 100-Piece Essentials Building Set (Amazon, $30) complete with everything kids need to build with their (and your) favorite Tinkertoy parts! The set comes with 100 'essential' Tinkertoy pieces, including spools, rods, flags, washers and end caps." This timeless toy that helps develop fine motor skills is best for kids ages 3 years and up.
2
Little Tikes Discover Sounds Sports Center
Whether or not your youngster is a huge sports fan or you're just looking for a fun, interactive educational toy the Little Tikes DiscoverSounds Sports Center (Toys R Us, $30) is an interactive toy that teaches numbers 1 to 10, encourages hand-eye coordination and is filled with lots of lights and sounds. Kids will love hearing songs and sound effects when baskets are made, while the backboard will keep track of how many baskets your little sport scores. A spinning football fosters fun and a clicking baseball and oversized bat make it perfect for the little hands of kids between the ages of 9 months and 3 years old.
3
The Disney Creative Studio and Smart Stylus
For the art lovers in the family, Schacht recommends parents pick up The Disney Creative Studio App and Smart Stylus (Amazon, $50 plus the free app on iTunes) to inspire creativity while sharpening hand-eye coordination. "The Disney Creative Studio and Smart Stylus, from KIDdesigns, is a creative experience with Disney characters kids love. Kids can follow along as real Disney artists teach them how to draw their favorite characters in step-by-step tutorials. The app includes more than 45 unique 'pages' of activities, like tracing, connect the dots and coloring. The Smart Stylus connects wirelessly to the iPad, and kids can save and share their creations with friends and family." This educational toy is designed for kids ages 3 years and older, but Schacht admits to first-hand experience that it's fun for all ages!
4
Vtech Alphabet Activity Cube
Designed with kids ages 9 months to 3 years in mind, the Vtech Alphabet Activity Cube (Target, $40) features five interactive sides of hand-eye coordinating fun. Boasting activities that foster eight developmental stages, this educational toy will grow with your child whether he or she loves building with the double-sided alphabet blocks or playing a tune on the light-up piano keys. The cube's electronic side lets kids fit ABC blocks into slots to learn more about each letter, while a number keypad and a telephone teaches numbers and music — and taps into imagination. While the activity cube does include lots of high-tech fun, a peg maze, sliders, gears, mirrors and more also incorporates good old-fashioned fun.
5
Fisher-Price I-JIG Interactive Jigsaw Puzzle System, by TCG
Taking classic toys that teach and bringing them into the new age of fun is a great way to encourage learning through play, like with these electronic puzzles, suggests Schacht. "Puzzles are one of the first things that come to mind when thinking about a fun toy that assists in the development of hand-eye coordination, and new in the puzzle category is the Fisher-Price I-JIG Interactive Jigsaw Puzzle System by TCG (MSRP $25). This is an innovative jigsaw puzzle system that lets preschoolers make a puzzle, play games and music, learn animal names and sounds and answer questions about the puzzle scene."This new-age puzzles teaches through three interactive modes and more than 50 questions to intrigue little puzzlers ages 3 years and older," explains Schacht.
More about educational toys
6 Educational toys for preschoolers
Top educational toys for toddlers
Educational toys for every age