Pregnant Celebrity
Photo Gallery
Happy Wednesday Hump Day, also known to us as Celebrity Baby Bump Day! We have rounded up the cutest pregnant celebrities of the week, including pregnant Rachel Zoe, who is finally showing and glowing! Kim Zolciak shows off her twin baby bump wearing only a bra top, while pregnant Gwen Stefani looked chic in a gray tank dress. Pregnant Devious Maids star Dania Ramirez looked gorgeous, as did newly pregnant DWTS pro dancer Anna Trebunskaya.
(page 3 of 5)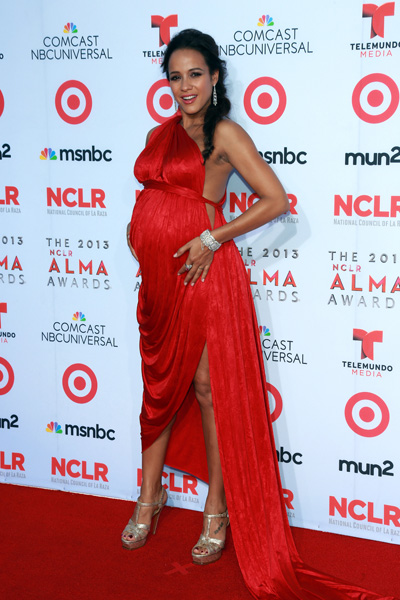 Dania Ramirez
Radiant in red! Devious Maids star Dania Ramirez — who is expecting twins — looked gorgeous in a red Michael Costello gown at the ALMA Awards.
The actress recently revealed she is expecting a boy and a girl! The twins will be the first children for the star and her husband.
"I'm due in January and because it's twins, my doctor thinks that they could possibly come early — somewhere between December and January. I go back to work in mid-January," she told People.com.
She said she does have the names picked out — but she is keeping them a secret.
"I can't wait to meet them. That's what I'm most excited about — I just cannot wait for them to come out. That's another reason why I don't want to share the names yet. We have these really beautiful and powerful names for them and I want to say them out loud once I see them for the first time, just to make sure that it all feels right," she revealed." My babies will be named right then and there. I want to make sure that nothing gets switched over — I'm probably going to have my mom and my mother-in-law follow the babies and make sure!"
Next up: Pregnant DWTS pro dancer Anna Trebunskaya spotted in Liz Lange for Target