Hands On
Celebrity Moms
Yes, celebrity moms might lead a more glamorous life than us normal moms (Red carpet events! Yacht parties! Designer gowns for free!) but we spotted many A-listers doing normal stuff we do! From play dates to taking the kids to see Thomas the Train to Saturdays at the soccer park, check out which celebrity moms are (sorta) like us!
(page 5 of 7)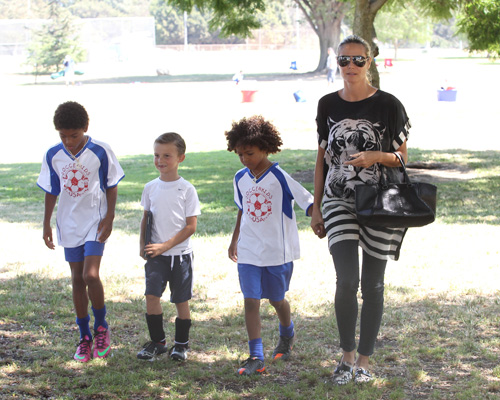 Heidi Klum
From celebrity mom to soccer mom! Heidi Klum holds hands with her son Henry as she walks with her older son, Johan, and a friend at a soccer game.
Even though you might imagine her Saturday mornings to be full of spa treatments and glamorous events (and we are sure she has plenty of those!), it looks like most of her Saturdays are spent just like ours — watching the kids play sports!
Next up: Kate Hudson and Bing at the airport