Hands On
Celebrity Moms
Yes, celebrity moms might lead a more glamorous life than us normal moms (Red carpet events! Yacht parties! Designer gowns for free!) but we spotted many A-listers doing normal stuff we do! From play dates to taking the kids to see Thomas the Train to Saturdays at the soccer park, check out which celebrity moms are (sorta) like us!
(page 2 of 7)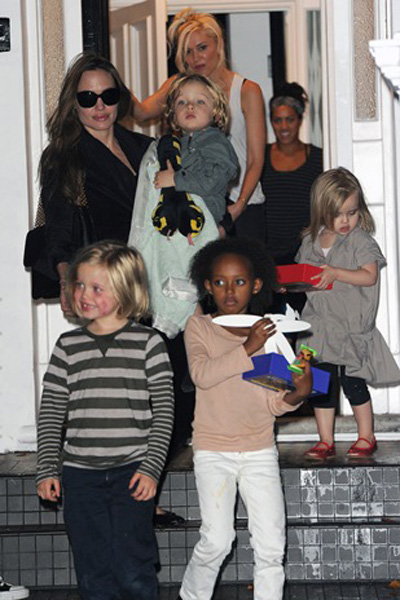 Angelina Jolie
Guess what? Celebrity moms have play dates with other moms! Angelina Jolie was spotted leaving the London home of Gwen Stefani and Gavin Rossdale. Carrying little Knox in her arms, Jolie walked down the steps with Vivienne, Zahara and a smiling Shiloh as they finished playing with Stefani's two boys, Kingston and Zuma. It looks like the kids got into the make-up as Shiloh has what appears to be lipstick on her face!
Wouldn't you have loved to be a fly on the wall as Angelina and Gwen chatted away while the kids played? Kingston was actually born the day before Shiloh, while Zuma is the same age as the twins Vivienne and Knox.
Next up: Kourtney Kardashian takes Mason to see Thomas the Train