A new baby plus a houseful of Thanksgiving guests
You've had a baby just in time for the entire family to join you for Thanksgiving. What's a postpartum mom/hostess to do?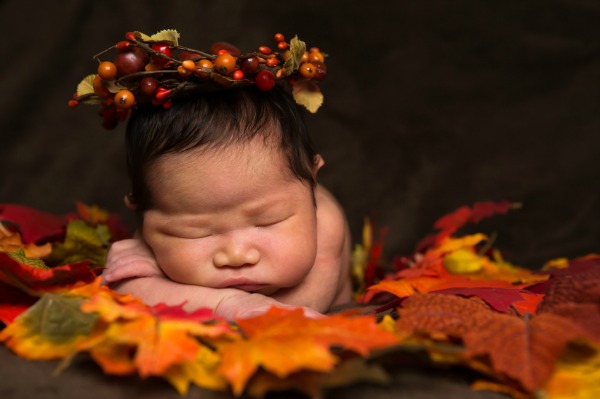 Katie Hurley, LCSW, and moms share tips for taking care of Thanksgiving while taking care of yourself and your new little turkey.
So, you found yourself in labor with your baby instead of laboring in the kitchen cooking Thanksgiving dinner? You're not alone. You can't completely plan a postpartum Thanksgiving, but you can think about these ideas.
Take it easy this Thanksgiving
Rule No. 1? Don't stress. Having a brand new baby — not to mention going through the physical and emotional changes that are part of postpartum life — is a huge change. Don't expect to feel like being the perfect Thanksgiving hostess!
"For a brand-new mother, it can be difficult to navigate the holiday season while trying to balance her own needs with the expectations of others around her," says Katie Hurley, LCSW.
Although it may be difficult to explain to family that you want to take it easy this Thanksgiving, she explains, "The best advice for a postpartum mom or an expectant mom at holiday time is to just be selfish. Planning a holiday meal, regardless of how elaborate, can be stressful. It's a lot of pressure to take on when you have an infant in your arms."
Prepare for Thanksgiving in advance
While you usually can't prepare for when baby will make her arrival, if you really want to cook, prepare what you can in advance. Freeze gravy, side dishes and even sliced turkey. Better yet? Make reservations or order Thanksgiving takeout.
Write a postpartum Thanksgiving to do list — for others
I always encourage expectant parents to write a postpartum to-do list of things friends and family can help with — grocery shopping, laundry, walking a dog — and Thanksgiving is the perfect time for this.
Michelle is a mom who agrees. She says, "My oldest son was born a week before Thanksgiving. And the best tip that I could share is to not expect your normal holiday activity — you will be exhausted and you will not be able to do all that you would so to not be let down give yourself permission to keep it simple. Focus on the baby and do what you can — let family know, and if you are hosting maybe someone else can host. Or if you must host, have everyone bring and contribute so that you are not doing all the work — and ask for help cleaning."
Bring Thanksgiving to you — at the hospital
If you find yourself at the hospital in labor instead of laboring over Thanksgiving dinner in your kitchen, take a cue from Tess, a mom of two. She says, "My second son was born last year on the Wednesday before Thanksgiving so I spent Thanksgiving in the hospital. I offered my house to my in-laws and mother to have their Thanksgiving there with my 2-year-old while hubby, me and baby were in the hospital. They brought us some food for a visit later."
Don't hesitate to just say no
If hosting Thanksgiving isn't even on your radar, but you're worried about turning down an invitation last minute, don't be.
Hurley says, "Set limits. It's perfectly acceptable to turn down an invitation, and it's also reasonable to attend for a short amount of time and show up empty-handed — getting out the door to a holiday party with a newborn is more than enough! While this might cause some disappointment among relatives, it's truly better to focus on what's best for Mom and Baby. There will be plenty of time to visit after the busy holiday season."
More about postpartum life

Postpartum pampering: Avoid new mommy burnout
Are you at risk for postpartum mood disorders?
Postpartum sex: Tips for improving intimacy after pregnancy