Steal Her Style
Kate Middleton
New mom Kate Middleton always looks polished, yet chic as she mixes high-end designer items with more affordable pieces. Copy her trendy style at the Ring of Fire races, wearing a green Ralph Lauren blazer with her favorite Paige jeans, and find out where you can pick up her gorgeous knot front dress that she wore for her first official portrait with Prince George.
(page 2 of 2)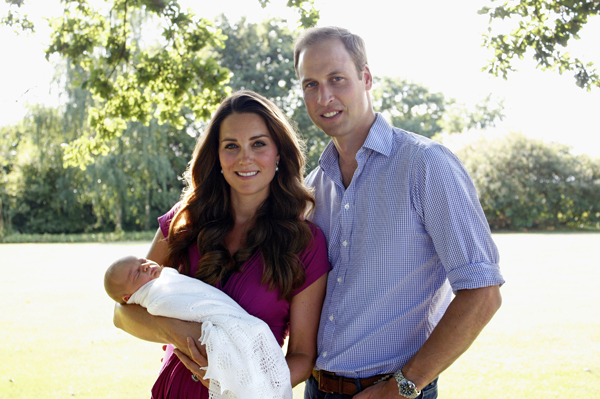 Gorgeous family! Kate and William look like proud new parents as they hold Prince George in the first official portrait that is displayed in Queen Elizabeth's sitting room. The photo was taken by Kate's father, Michael Middleton.
Kate looks amazing — and she is actually wearing a maternity dress! The Duchess is wearing the Fuchsia Knot-Front Seraphine Dress (Seraphine, $79). The flattering cut and fit of this dress makes it perfect for pregnancy, as well as those few months after baby is born.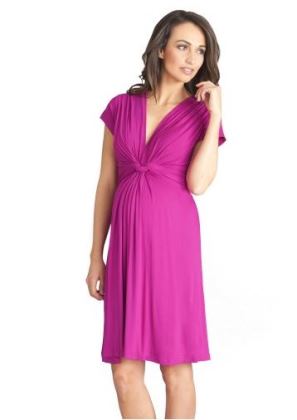 The new mom is obviously a big fan of this dress, as she was spotted wearing this exact same dress in the Blossom Knot print (Seraphine, $85) soon after Prince George was born. This dress is available, but "due to high popularity" won't be shipped until November... so it's yours if you are willing to wait a bit!.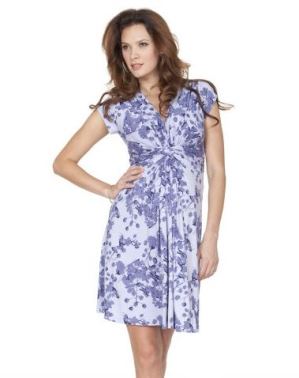 Lange said that Kate is spot on when dressing that post-pregnancy "fourth trimester" by recycling those items, such as the above wrap maternity dresses, she wore early in pregnancy. "Remember, the same gently-worn items that got you through the first trimester when you were transitioning into your pregnancy are what you can go back to now that you are in the fourth trimester," she suggests.
Prince George is lovingly swaddled in Super-Fine Merino Wool Christening Shawl, which is available for 45 pounds or around $72 dollars from the U.K. store G.H. Hurt & Son. You can pre-order this shawl, which is hand-finished with a scalloped edge, and it will ship in 6 weeks.
More celebrity mom style
Photo credit: Getty