Too young for
hair color?
Highlights and high-color streaks are all the rage, but your child may be too young for the latest hair color trends. Find out what's safe — and what's not.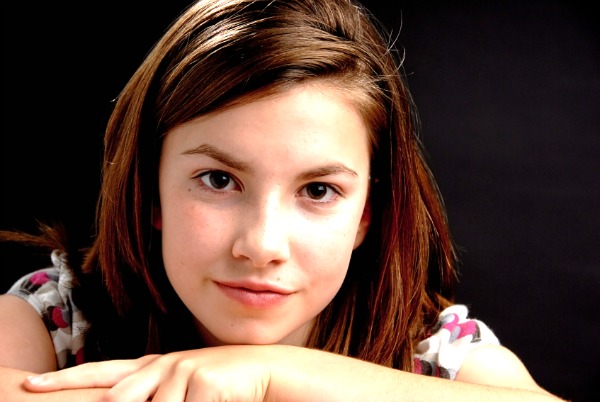 Pre-pubescent hair is not ready for coloring
A child's hair is usually much finer than that of an adult, making it more susceptible to damage from chemical and environmental factors, according to Kendall Ong, owner of Mane Attraction Salon in Phoenix.
"Hormones play a key role in the development of a child's hair and skin," says Ong. "It isn't until reaching puberty that your hair begins to mature and become the hair you will generally have into adulthood." Straight hair may become wavy and wavy hair may go straight. Hair color may change, and the hair may get thicker, thinner, finer or coarser.
"A child's hair changes a lot," says seasoned stylist Bonnie Harmon, owner of 13 Fantastic Sams salons in the Fayetteville area. "Color, thickness, texture and curls can go through several changes from birth until puberty."
Chemically altering a child's hair prior to the age of puberty, therefore, is not ideal. "Before puberty, a kid's hair is typically thinner and more fragile and can be easily damaged by even the most gentle hair color formulas," says Harmon.
Permanent hair color may be harmful
Your child's scalp is susceptible to harm as well. "Children's skin and scalp are more tender, sensitive and prone to allergic reactions," explains Harmon. "An allergic reaction could result in broken skin, hair loss, hives, itchy scalp, swelling, burning and difficulty breathing."
"Children's skin and scalp are more tender, sensitive and prone to allergic reactions."
Ong recommends waiting "until your child is a teenager" before using any type of permanent hair color. "Permanent hair color and highlights contain ammonia and hydrogen peroxide which can damage hair."
Frank Friscioni of Oscar Blandi Salon in Manhattan and Frank Cassi Beauty in Palm Beach agrees. "I would not want to apply dye to a child's scalp who is under 16 years of age," says Friscioni. "On the scalp, hair color can easily penetrate through the scalp and into the blood. There is no science to say that this is dangerous, but I would still be wary."
Frank Friscioni of Oscar Blandi Salon in Manhattan and FrankCassi Beauty in Palm Beach
Kids do have hair color options
Friscioni has had color clients as young as 9 years old… for crayon chalk highlights. At home, you might consider trying HotHuez Temporary Hair Chalk (Amazon, $11).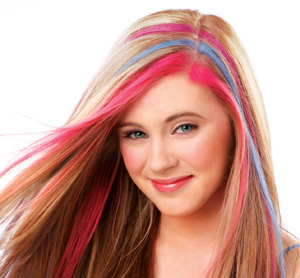 Harmon suggests an off-the-scalp application, such as cap highlights or foils. "When a child between the ages of 12 and 16 wants highlights, it is usually because she wants to see a color change," says Harmon. "Highlights can satisfy a child's desire for color and won't cause problems because nothing touches the scalp."
Ong recommends semi-permanent and demi-permanent color, which have lower ammonia levels and are less damaging. "Temporary colors that wash out after one shampoo are generally fine for all types of hair," says Ong.
Whatever color option (if any) you and your child choose, be sure to take one more important step. "Always perform the required 48-hour patch test prior to application to check for allergies," cautions Harmon. It's better to be safe than sorry!
More on children's hair
Help for kids' hair problems
Tips and tricks for surviving toddler haircuts
Caring for your baby's hair