Pregnant Celebrity
Photo Gallery
Happy Wednesday Hump Day or, as we like to call it, Celebrity Baby Bump Day! We have rounded up the cutest pregnant celebrities of the week, including Halle Berry, who looked amazing despite the fact she could give birth at any moment. Pregnant Jennifer Love Hewitt showed off her bump in a white maxi dress, while pregnant Gwen Stefani looked like one hip soccer mom! Pregnant Homeland star Morena Baccarin at the Emmy's and Devious Maids star Dania Ramirez round out our list of cute pregnant celebrities.
(page 4 of 5)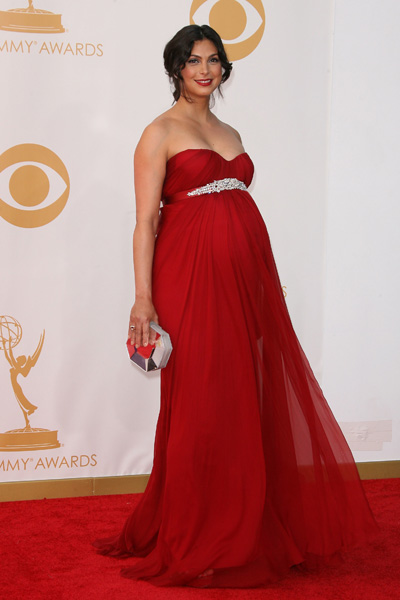 Morena Baccarin
Homeland star Morena Baccarin, who is actually due any day now, showed off her baby bump in a radiant red Alexander McQueen gown paired with Fred Leighton jewelry at the Emmy Awards.
The actress, who was nominated for Outstanding Supporting Actress in a Drama Series, said that even if she would have gone into labor during the Emmys, she would have tried to wait it out! Luckily, nothing of the sort happened — although Breaking Bad's Anna Gunn beat her for the Emmy. But we think Bacccarin still wins the prize for best baby bump!
Baccarin told USA Today that she and her husband, director Austin Chick, know the sex of the baby but they are keeping it secret. One thing she is not keeping secret is her ability to transform from one role to the next, such as when she played the short-haired alien Anna on the ABC show V.
"I loved the character and all the outrageous things I got to do on the show. Coming from V into Homeland was a really big change, and the best gift as an actor you can get — which is to transform so drastically from one genre to the next, from lizard to human being!" she said.
Next up: Devious Maids' Dania Ramirez reveals sex of the twins!