Pregnant Celebrity
Photo Gallery
Happy Wednesday Hump Day or, as we like to call it, Celebrity Baby Bump Day! We have rounded up the cutest pregnant celebrities of the week, including Halle Berry, who looked amazing despite the fact she could give birth at any moment. Pregnant Jennifer Love Hewitt showed off her bump in a white maxi dress, while pregnant Gwen Stefani looked like one hip soccer mom! Pregnant Homeland star Morena Baccarin at the Emmy's and Devious Maids star Dania Ramirez round out our list of cute pregnant celebrities.
(page 3 of 5)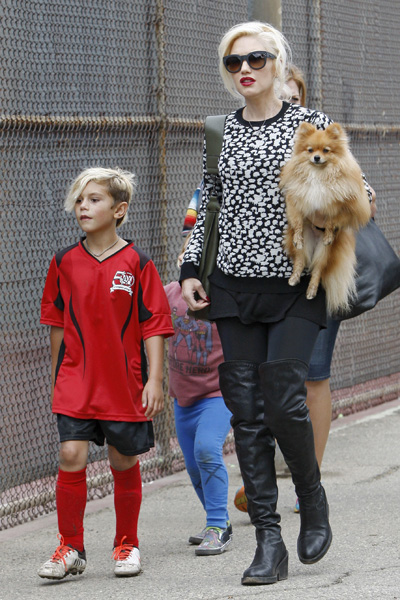 Gwen Stefani
What a hip soccer mom! Pregnant Gwen Stefani, who is expecting baby number three with husband Gavin Rossdale, wore a black and white printed sweater paired with thigh-high boots as she carried their dog Chewbacca to watch her son, 7-year-old Kingston, play soccer in Los Angeles.
Although the 43-year-old Stefani hasn't confirmed the baby news yet (and she certainly isn't sporting much of a baby bump), her friend, singer Eve, spilled the beans!
When Eve was asked if they would be collaborating again in the future, Eve said, "Well she's preggers! She's chilling."
It sounds like the No Doubt singer is more than excited to add to her family. "Having kids takes the whole relationship to another place. It is the ultimate collaboration," Stefani told Vogue last year, of her 10 year marriage to Rossdale. "Both of us have such strong opinions about how it should be, and it's really fun to do it together."
Next up: Homeland's Morena Baccarin looks gorgeous in maternity Emmy gown