Pregnant Celebrity
Photo Gallery
Happy Wednesday Hump Day or, as we like to call it, Celebrity Baby Bump Day! We have rounded up the cutest pregnant celebrities of the week, including Halle Berry, who looked amazing despite the fact she could give birth at any moment. Pregnant Jennifer Love Hewitt showed off her bump in a white maxi dress, while pregnant Gwen Stefani looked like one hip soccer mom! Pregnant Homeland star Morena Baccarin at the Emmy's and Devious Maids star Dania Ramirez round out our list of cute pregnant celebrities.
(page 2 of 5)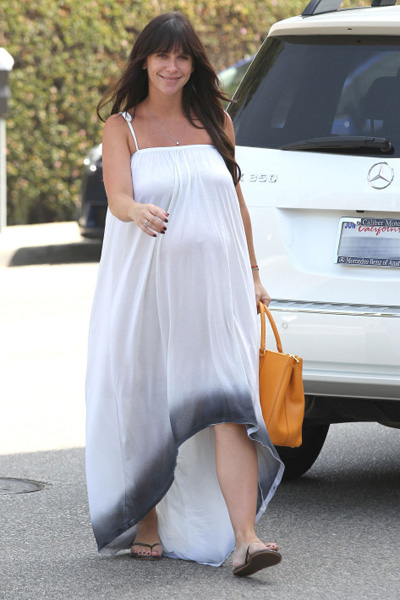 Jennifer Love Hewitt
Pregnant actress Jennifer Love Hewitt looked cute and comfortable in a white maxi dress and flip-flops while out in Brentwood, California on Sept. 19.
The Client List star and her fiancé Brian Hallisay are expecting their first child together in December.
"I've been under scrutiny for 24 years of my life, so it's been interesting to see how, when you really embrace what it's about, it's okay," Hewitt told People of her changing pregnancy curves. "You just go with it, and it's great."
The 34-year-old actress also opened up about how she lost her own mom due to cancer.
"I lost my mom a little less than a year and a half ago to cancer. Obviously, I got very lucky that even though I lost my mother, I lost her later in life — but it's still had a profound effect on me," she says. "I've always wanted to be a mom. I had a great relationship with mine. I'm ready to pass on to my child all the great love that my mom had for me."
Next up: Pregnant Gwen Stefani is a soccer mom!