Pregnant Celebrity
Photo Gallery
Happy Wednesday Hump Day or, as we like to call it, Celebrity Baby Bump Day! We have rounded up the cutest pregnant celebrities of the week, including Halle Berry, who looked amazing despite the fact she could give birth at any moment. Pregnant Jennifer Love Hewitt showed off her bump in a white maxi dress, while pregnant Gwen Stefani looked like one hip soccer mom! Pregnant Homeland star Morena Baccarin at the Emmy's and Devious Maids star Dania Ramirez round out our list of cute pregnant celebrities.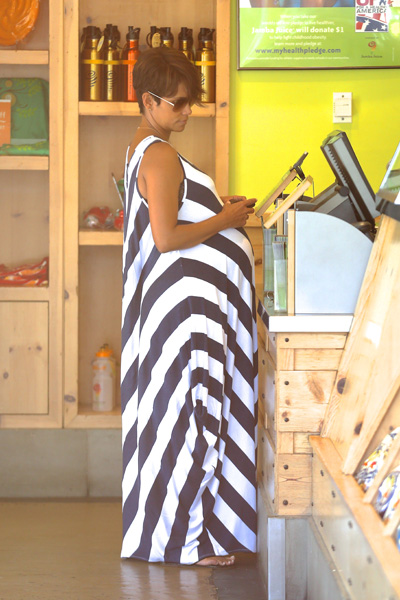 Halle Berry
Jamba Juice craving! Pregnant Halle Berry was spotted ordering a fruit smoothie on Sept. 23 in Studio City, California. The 47-year-old mom-to-be wore a striped maxi dress paired with flip-flops for her day out.
The actress has never revealed the due date — however, judging by the size of her baby bump, we can't imagine she has much longer!
Berry is expecting a baby boy with her husband, Olivier Martinez.
She recently talked to Total Film magazine about her surprise pregnancy and how that affected her reprising her role as Storm in X-Men: Days of Future Past.
"My ever-growing belly was posing a constant challenge!" she said. "What I could do was getting more limited, so the role I play is so different from what it could have been, due to my surprise pregnancy."
Berry also let a possible spoiler alert slip!
"[Pregnancy] kind of colored what my involvement could be, which was why I was one of the first ones in and the first ones out," she revealed.
The gorgeous actress also told the magazine that she doesn't have any beauty secrets.
"There's no secret, I've just lived a healthy lifestyle," Berry says. "I only work out like three times a week, 30 minutes a pop. That and good clean living. As I'm getting older it's just paying off."
Next up: Pregnant Jennifer Love Hewitt is in her third trimester