A spirit of kindness
Kids look forward to Halloween but many adults wish there was something more to it than the expensive costumes and sugary treats. Finding ways to be charitable during the trick or treat season will teach children that even in times of great indulgence they can find ways to give back.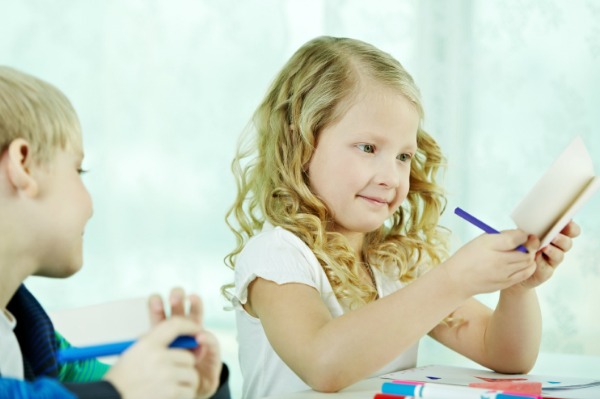 This Halloween have fun while also incorporating some meaning into the holiday by teaching the spirit of giving. Here are 10 charitable activities you can try with your family this Halloween that will hopefully develop into a long-lasting fall philanthropy tradition.
Some children are too ill to go out trick or treating. Make homemade Halloween cards for hospitalized children with life-threatening illnesses and mail to either Love Letters: Random Cards of Kindness or Hugs and Hope.
2
Send candy to the troops
Many dental offices participate in post-Halloween candy buybacks. Donated sweets are sent to organizations such as Operation Gratitude or Operation Shoebox. Both organizations include the candy in care packages for U.S. soldiers in harm's way. Find a participating dental office near you or get information to start your own collection.
3
Volunteer at Meals On Wheels
Meals On Wheels provides nutritious meals to seniors and will package a little candy "treat" from donated Halloween loot. Visit the Meals On Wheels website for their nearest location.
4
Organize a Halloween costume drive
Donate gently-used Halloween costumes to a local clothing closet or thrift store. Donate to Goodwill or Salvation Army and a portion of their costume sales help fund job training programs and other community-based programs.
5
Hold a "trick-or-feed" food drive
Throw a Halloween-themed party where the ticket to enter is a can of food. Or distribute flyers around your neighborhood letting others know you will be collecting canned food during trick or treating. To find your local food bank visit FeedingAmerica.org.
Forget the trick and instead perform a treat or a random act of kindness. Bake pumpkin bread for a neighbor, deliver a handwritten thank you note to an officer or organize a leaf brigade and rake some yards in your community one Sunday afternoon.
Funds collected in UNICEF boxes help provide children in need with health care, clean water, nutrition, emergency relief and more. Complimentary UNICEF collection boxes can be found at any Toys R Us, Babies R Us and some Hallmark stores or order directly from their website.
8
Participate in Sight Night
Each Halloween, OneSight sponsors Sight Night. Distribute flyers in your neighborhood asking for old prescription eye glasses and non-prescription sunglasses to be collected during trick or treating. OneSight cleans and delivers them to people in need of eyewear throughout the world. Learn more about Sight Night or find your local drop off location at allaboutvision.com.
9
Purchase fair trade candy
Half of the chocolate eaten in the U.S. comes from the Ivory Coast, a place of documented instances of child labor and enslavement on cocoa farms. To raise awareness and take a stand, purchase fair trade candy or participate in the Reverse Trick-or-Treating Campaign.
10
Help hospitalized children
The Spirit of Children is a non-profit organization that makes Halloween less scary for thousands of children in over 130 hospitals across the U.S. and Canada. They promise that 100 percent of donated money goes directly to hospitals for books, television sets and crafts which help children cope with their illness. Donate at a Spirit Halloween store prior to Nov. 1 or donate directly on their website.
More about Halloween
Mom, how did Halloween start?
Celebrate Halloween safely
When you don't celebrate Halloween