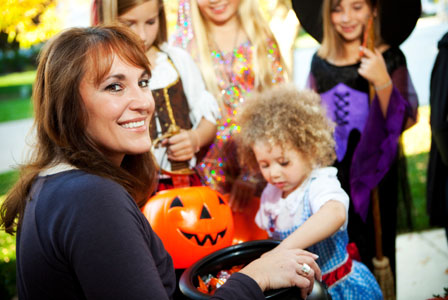 While part of the fun of taking your kids through your neighborhood on Halloween is visiting your neighbors, knowing your youngsters will be safe while trick or treating is better than a king-sized candy bar.
Hit the sweetest spots for scoring candy
Before you and your kids take on the witching hour with pail in hand, sink your teeth into the results of Zillow.com's 2013 list of top 20 best cities for trick or treating.
Zillow's trick-or-treat index
Zillow's trick-or-treat list features the top five neighborhoods in each of the cities you'll want to include on your candy collecting route on Halloween night. The real estate data site took their "zillions" of data points for 2013 and tagged the top 20 cities based on median home value, crime data, walk score and population density. To further sweeten the pot, they then sorted out the top five neighborhoods in each city.
Top 20 cities for trick or treating for 2013
While San Francisco tops Zillow's trick-or-treat list, your Halloween night candy count won't be too shabby even if you saunter through the list's 20th best city — Baltimore. So, did your city make the list? Check out Zillow's top 20 list for 2013 below:
Noe Valley
Sea Cliff
Cow Hollow
Presidio Heights
Glen Park
West Roxbury
Back Bay
Beacon Hill
Charlestown
North End
Moanalua
Waialae-Kahala
Manoa
Kuliouou-Kalani Iki
Hawaii Kai
Willow Glen
Rose Garden
Cambrian
Almaden Valley
Santa Teresa
Loyal Heights
Phinney Ridge
Wallingford
Madison Park
Bryant
Pacific Palisades
Brentwood
Bel Air
Studio City
Cheviot Hills
Ravenswood
Sheffield
Edison Park
Roscoe Village
Belmont Heights
American University Park
Chevy Chase
Georgetown
Woodley Park
Friendship Heights
Laurelhurst
Alameda
Irvington
Sunnyside
Mount Tabor
Mount Airy
Chestnut Hill
Fairmount
Manayunk
South Philly
Check out more of the best cities for trick or treating >>