Welcome autumn with your child's senses
Sensory activities are an important way to encourage kids of any age to explore the colors, textures and shapes around them. From dyed pasta pieces to autumn textures and scents, learn how to create a fall sensory box.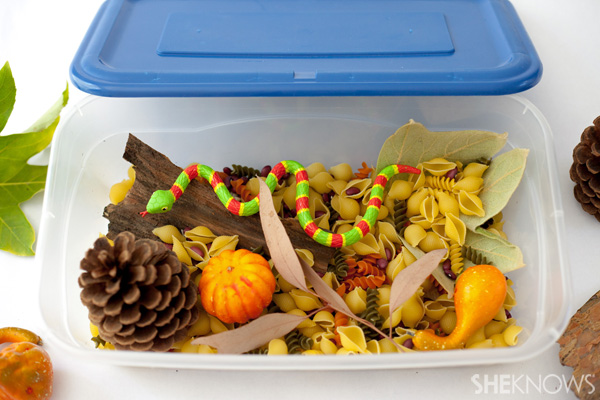 Benefits of sensory activities
Sensory integration (SI), also known as sensory processing (SP) is the way your body organizes sensory messages and tells your body how to respond with the appropriate motor and behavioral reactions. However, for children with Sensory Processing Disorder, the brain is unable to receive and interpret sensory information correctly, making it difficult to process and respond to sights, sounds, textures and more — even everyday tasks. By stimulating children's senses through sensory boxes, these activities disguise sensory therapy through fun activities.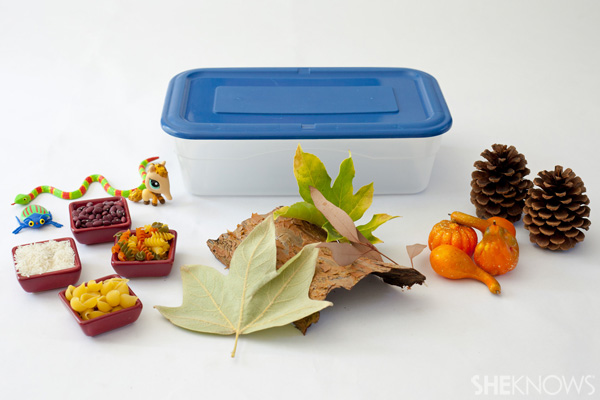 What you'll need:
Plastic container or bowl
Dried pasta in interesting shapes and colors
Colorful beans
Tree bark
Fall leaves
Pine cones
Autumn pumpkins and gourds
Rice
Cups or measuring cups
What you'll do:
Add a mixture of pasta, beans, rice, tree bark, pine cones, plastic animals and autumn gourds to your plastic box.
Next, place small cups or measuring cups to your box.
Then, encourage your child to touch, listen, smell and explore all of the items in the fall sensory box while explaining what he or she is discovering along the way. Just be sure to supervise your youngster to ensure no small items make it into his mouth and become a choking hazard.
Options for building sensory boxes
The beauty of this activity is that there are no limits to what a sensory box can contain. For a fall-themed sensory box, consider adding in things that are associated with the autumn season, such as:
Texture
Bark
Pinecones
Brown or white rice
Velvety leaves
Turkey feathers
Stalks of wheat
Color
Mini pumpkins and gourds
Dyed pasta pieces
Red, orange, yellow or brown beans in different sizes
Fall-themed animal toys such as turkeys, wolves and snakes
Scents
Cinnamon sticks
Dried orange slices
Vanilla bean pod
Dried apple slices
Sounds
Dried corn kernels
Crunchy leaves
Metal cups and plastic cups
Peanuts in shells for shaking
Coffee beans
While a study published in the Journal of Abnormal Child Psychology reports that one in every six children may experience sensory processing challenges that are substantial enough to disrupt everyday life, sensory processing disorders span a broad spectrum of severity. So, whether your child is affected by autism and Sensory Processing Disorder or you are just looking for a way to encourage your child to stimulate and explore through touch, smell, taste, sight and sound, all children can benefit from the fun and stimulation of a fall sensory box! Now that you've discovered how easy it is to create a fall sensory box, get your youngster exploring the sights, smells, sounds and textures of autumn!
More about sensory processing
Help children with sensory challenges enjoy the holidays
5 Gifts for kids with Sensory Processing Disorder
Does your child have sensory issues or behavior issues?