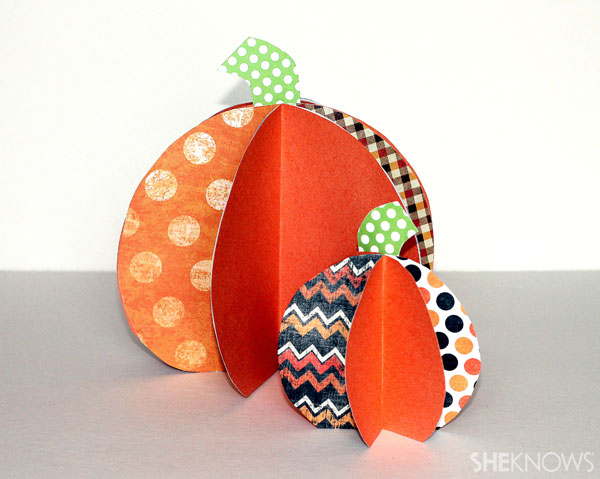 Produce a patch of pretty paper pumpkins
These pretty paper pumpkins are fun and easy to make. With a few readily-available supplies, you'll have your home looking like a pumpkin patch in no time!
Supplies needed to make one paper pumpkin:
Orange construction paper
Various fall-themed scrapbook paper, measuring 12 inches by 12 inches
Green patterned scrapbook paper
Various circular objects to trace circles
Scissors
Ruler
Elmer's® Early Learners™ Glue Stick
Instructions:
Using a plate or similar object, trace a circle onto the construction paper and cut out. Create a flat end by drawing a level line across the bottom of the circle and trimming. Use this piece to trace and cut the rest of your shapes. You'll need six circles per pumpkin. Cut out a stem-shaped piece from the green paper.
Fold each of your circles in half length-wise, right sides together, with the flat side at the bottom. Stack them — alternating colors and still folded — one on top of another. Then glue them together, end to end, to create a sphere shape.
Insert the stem in between the circles as you stack them and glue in place.
Try this
Trace different-sized circles to create varying sizes of pumpkins. Use more circle layers to create fuller pumpkins. Your preschooler would also probably love to color faces on the construction paper to make jack-o'-lanterns.