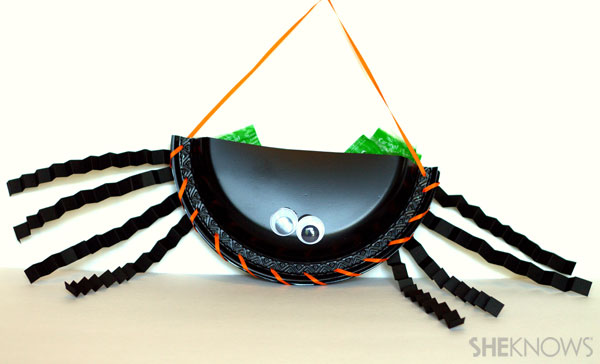 Make this silly spider candy holder!
This silly, googly-eyed spider is a very easy craft project, perfect for small hands to complete. It's also a perfect-sized pouch to collect a small amount of candy for your preschooler on Halloween. There are two options for constructing the pouch, depending on your child's age and/or skill level.
Supplies needed to make one hanging spider candy holder:
1 black paper plate
Black card stock, cut into eight 1-inch-wide strips
1 yard of 1/4-inch-wide orange grosgrain ribbon
Pair of large googly eyes
Elmer's® Early Learners™ Glue Stick
Elmer's® Early Learners™ Glue Pen
Hole punch
Scissors
Stapler
Large child-sized plastic needle (optional)
Instructions:
Carefully cut the paper plate in half, across the middle. Next, take the strips of card stock and fan fold each of them — these will become the legs. If you have an older preschooler who is comfortable lacing things up, stack the plates on top of each other, recessed sides towards the middle to create the pouch, and punch holes around the entire outer edge — through both plates — approximately an inch apart. Don't punch holes across the top. You may want to put one or two staples in to help keep the holes lined up. If you have a younger preschooler, stack the plates the same way and then just staple them together, approximately every inch. After you staple the plates, you can move ahead to step three.
Thread the large, plastic needle with the orange ribbon and lace up the plates, going over and under in a simple whip-stitch. Make sure when you create your first "stitch," you leave at least an 8-inch tail hanging out. This will become one half of the handle. Once your body is stitched up, tie the ends together to create a loop and trim off any excess ribbon.
Use the Elmer's® Early Learners™ Glue Pen to attach the googly eyes on the center-front, near the bottom. Glue the accordion-folded legs onto the opposite side of the paper plate using your Elmer's® Early Learners™ Glue Stick. If you didn't opt to sew up the body, staple an 18-inch length of ribbon to each side for a handle.
More Halloween crafts
3 Fun and easy Halloween crafts for kids
Flying bats Halloween craft
3 Fall crafts for kids