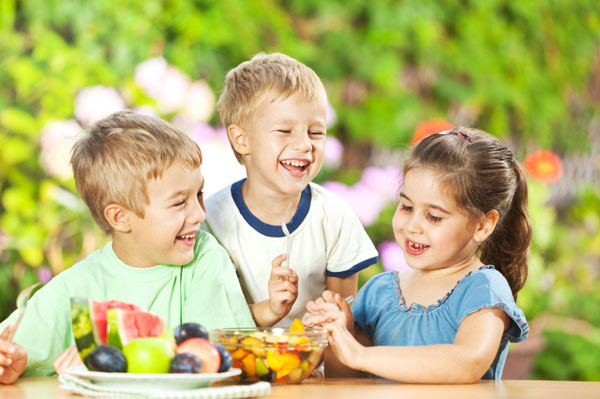 Fun food
songs for kids
Can you think of a better way to get the kids involved in helping out with dinner than to sing along to fun food-related songs while you get busy in the kitchen? These YouTube videos will have you singing right along with the kids as you get dinner on the table together.
"The Vegetables Song"
The lyrics to this song (set to the tune of "Twinkle, Twinkle, Little Star") are pretty easy to remember, and they promote eating your vegetables, making this a perfect song for kids to sing along to while you prep veggies for dinner. The cartoon veggies are pretty cute, too.
"Food Rainbow"
Teach kids about the importance of eating healthy foods in all colors of the rainbow with this video that features a visually enticing slideshow of fruits and vegetables with lyrics at the bottom of the screen. It can also help little ones learn their colors!
Debbie Doo sing-alongs
What kid can resist Debbie Doo's pink hair, sweet voice and easy-to-follow lyrics? In this video, Debbie Doo sings "10 Little Apples" and "Healthy Food Will Make You Smile" — perfect dinner-making music.
"The Food Song"
This video clip by Busy Beavers' cutesy cartoon beavers with large-print lyrics encourages viewers to enjoy healthy foods like carrots and apples as opposed to junk food. As you prepare dinner, incorporate some healthy foods mentioned in the video into your meal.
"Juice Box"
The clever rap song and cartoon by Preschool Popstars is super cute for older kids. The only problem? Your kids might come to you clamoring for a juice box before dinner because the song is just that catchy!
"Wait Until I Cook It"
Preschool Popstars are at it again with another catchy dinner-making sing-along, "Wait Until I Cook It." The song teaches kids to be patient while dinner is cooking, encourages them to eat their veggies and even gives a "big word" definition!
"Turkey Dinner"
This video features live turkeys gobbling along as a woman sings "Turkey Dinner." We're certain they wouldn't be gobbling with such enthusiasm if they knew they were destined to become said turkey dinner! Nonetheless, it's pretty funny. Play it while you and your kids are making Thanksgiving or Christmas dinner this holiday season!
"Healthy Food Song"
Discuss the importance of vitamins in healthy foods as you sing along to this song that promotes the benefits of vitamins. Talk about which foods are chock-full of these vitamins and incorporate them into your dinner menu.
More on dinner with the family
Fun themes for family dinnertime
Family dinners that the kids can make
5 Games to play at the dinner table