Pregnant Celebrity
Photo Gallery
Happy Wednesday Hump Day, also known to us as Celebrity Baby Bump Day! We have rounded up the cutest pregnant celebrities of the week, including Megan Fox, who enjoyed a date night out with her hubby. Kim Zolciak showed off her twin baby bump in a tiny bikini, while newly pregnant Emily Blunt was spotted at the airport. Homeland's Morena Baccarin and pregnant Jennifer Love Hewitt (in leather!) round out our list of cute pregnant celebrities of the week.
(page 5 of 5)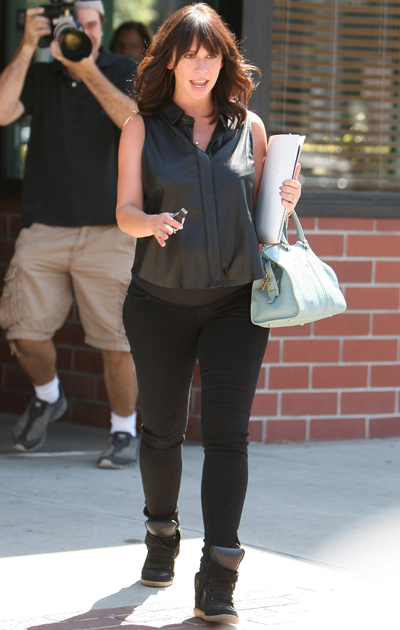 Jennifer Love Hewitt
Pregnant Jennifer Love Hewitt showed off her baby bump in a black leather top paired with skinny jeans and high top sneakers as she ran errands in Los Angeles.
The 34-year-old star of The Client List and her fiancé (and co-star!) Brian Hallisay are expecting their first child in December.
Hewitt said she hasn't quite yet decided on a baby name yet.
"We are undecided about our baby's name at the moment, but we have a little bit more time," she told the Huffington Post.
When asked if the baby would have three names, like she does, she said, "I don't know, maybe! We'll see, we'll see."
And what is her favorite body part now that she is pregnant? "Right now, my bump! I like the shape of it, so I'm happy with it. Because you never know sometimes they can be like weird, cone-shapes so, I'm very pleased with my bump shape."
Photos WENN unless noted otherwise