Pregnant Celebrity
Photo Gallery
Happy Wednesday Hump Day, also known to us as Celebrity Baby Bump Day! We have rounded up the cutest pregnant celebrities of the week, including Megan Fox, who enjoyed a date night out with her hubby. Kim Zolciak showed off her twin baby bump in a tiny bikini, while newly pregnant Emily Blunt was spotted at the airport. Homeland's Morena Baccarin and pregnant Jennifer Love Hewitt (in leather!) round out our list of cute pregnant celebrities of the week.
(page 4 of 5)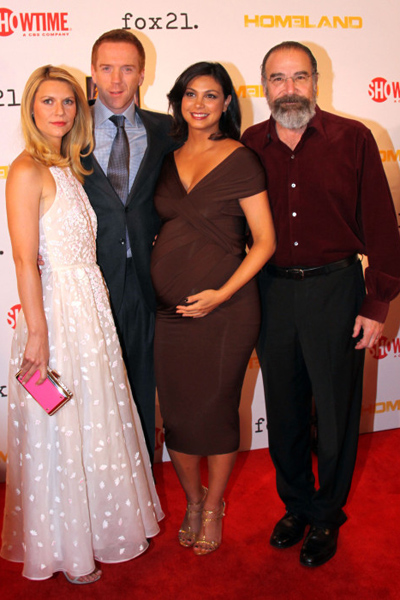 Morena Baccarin
Pregnant Morena Baccarin looked gorgeous at the season three premiere of Homeland in Washington as she stood with her co-stars Claire Danes, Damian Lewis and Mandy Patinkin.
This is the first child for the 34-year-old actress and her husband, director Austin Chick.
Baccarin said she was actually nervous to tell the show she was pregnant, but felt more comfortable since Danes, who now has a son named Cyrus, paved the way last year.
"I was a little freaked out about telling the show — just because, as a woman, [I had] a sense of responsibility to my job and I suddenly felt like, 'Am I going to be disappointing everybody that I'm knocked up?' But life goes on," she told Us Weekly. "Everybody was so kind to me. Claire's laid down the groundwork, and they're really good at hiding pregnancies now."
"Having Claire there is a gift," she continued. "She now has a beautiful little boy, and it's the nicest thing to know I'm in that community."
Next up: Pregnant Jennifer Love Hewitt in leather