Pregnant Celebrity
Photo Gallery
Happy Wednesday Hump Day, also known to us as Celebrity Baby Bump Day! We have rounded up the cutest pregnant celebrities of the week, including Megan Fox, who enjoyed a date night out with her hubby. Kim Zolciak showed off her twin baby bump in a tiny bikini, while newly pregnant Emily Blunt was spotted at the airport. Homeland's Morena Baccarin and pregnant Jennifer Love Hewitt (in leather!) round out our list of cute pregnant celebrities of the week.
(page 3 of 5)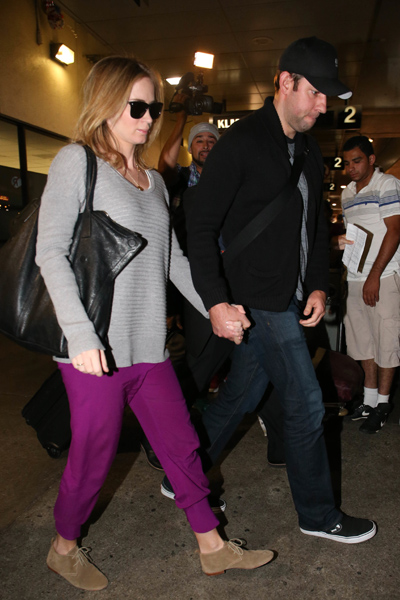 Emily Blunt
Cute Hollywood couple Emily Blunt and The Office star John Krasinski recently announced they are expecting their first child together!
The couple married in 2010 and is ready to start a family.
"They both want kids, it's one of the reasons they got a bigger place, in a neighborhood that you can raise a family," a source told Us Weekly. "They both couldn't be more excited."
Blunt, 30, told me in an interview shortly after they got married that they had planned on having kids when the time was right.
"I've always wanted them. And I think I've got a few more years to be silly and then get to that," she said, saying she is from a family of four kids.
No word on how far along she is, but she was recently spotted at the airport with Krasinski hiding her baby bump with a loose-fitting sweater paired with purple pants.
Next up: Pregnant Homeland star Morena Baccarin shines on the red carpet with Claire Danes