Kid-Friendly halloween party songs
A Halloween party is not a "graveyard smash" unless you have the right music to set the atmosphere. Get ready to fill up your playlist with these kid- and mom-approved Halloween songs that will get you in the spooky (but not too spooky) spirit.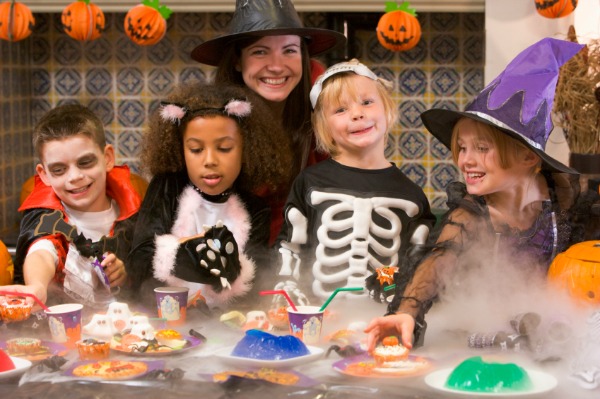 Whether you need music to pass out candy or are planning a fun Halloween bash, get ready to set the atmosphere in your house with our pick of the top 12 Halloween party songs for kids.
"Monster Mash" — Bobby "Boris" Pickett & the Crypt-Kickers
You can't have a Halloween party without including this song in the mix. This song was actually #1 on Billboard's Hot 100 list in 1962 and it has remained a Halloween favorite ever since — or shall we say, it's a graveyard smash!
"Thriller" — Michael Jackson
The '80s were a gold mine for great Halloween songs — and, of course, Michael Jackson's "Thriller" tops the list! Before Twilight, True Blood or the The Walking Dead, we had "Thriller." Although the video is too scary for younger kids, teens will probably get a kick out of the now antiquated graphics that turn MJ into a werewolf. This song is a must on your Halloween playlist.
"Ghostbusters" — Ray Parker Jr.
The Ghostbusters theme song, sung by Ray Parker, Jr., has become a Halloween staple since the movie of the same name hit theaters in 1984. This fun movie starring Bill Murray and Dan Aykroyd, would also make a fun Halloween family movie night.
"A Nightmare on my Street" — D.J. Jazzy Jeff & the Fresh Prince
Remember when Will Smith was a rapper? If you are a kid of the '80s, you will totally remember this song — and you will probably know all the lyrics, as well. Your teen may not know exactly who Freddy Krueger is, but they hopefully won't mind when you sing along to this catchy tune based on the 1988 hit movie, A Nightmare on Elm Street 4: The Dream Master.
"I Want Candy"
This song was originally written and sung by The Strangeloves in 1965, however has since been covered by several artists, including Bow Wow Wow and Aaron Carter. The song is actually about a girl named Candy, but we think it works equally well for a kid's Halloween bash — after all, candy is the main attraction of this spooky and fun holiday!
"Purple People Eater" — Sheb Wooley
Who doesn't like a "one-eyed, one-horned, flying, purple people eater?" This song hit #1 in 1958 — and remains a fun classic Halloween song today.
Up next: More Halloween songs for kids >>