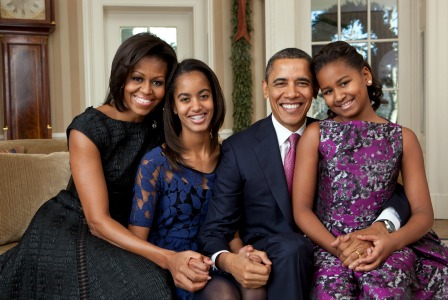 From George Washington's stepson John to Barack Obama's youngest daughter Sasha, the names of the children of U.S. presidents are beautiful and varied. One might be the perfect choice for your baby.
Descendants of 44 presidents
If you're looking for the perfect name for your son or daughter, why not look to the 44 U.S. presidents for inspiration? There are plenty of presidential children's names to peruse, from understandably classic to the totally modern.
Many presidents had children with the same names — John, for example, appeared in the families of several presidents — so we simply listed the first appearance of each name. But you can attest that some names are traditional and classic, some probably won't be used any time soon and some are impossibly unique.
Which names do you like the best, and which names were the most surprising to you?
Presidential children's names for boys
---
Abraham: Son of Martin Van Buren
Abram: Son of James Garfield
Allan: Son of Herbert Hoover
Andrew: Son of Andrew Jackson
Archibald: Son of Theodore Roosevelt
Benjamin: Son of William Harrison
Carter: Son of William Harrison
Charles: Son of John Adams
Chester: Son of Chester Arthur
Calvin: Son of Calvin Coolidge
David: Son of John Tyler
Donnell: Son of Jimmy Carter
Doud: Son of Dwight Eisenhower
Edward: Son of Abraham Lincoln
Elliott: Son of Franklin Roosevelt
Francis: Son of Grover Cleveland
Franklin: Son of Franklin Pierce
Frederick: Son of Ulysses S. Grant
George: Legal ward of George Washington
Harry: Son of James Garfield
Herbert: Son of Herbert Hoover
Irvin: Son of James Garfield
James: Son of James Monroe
Jesse: Son of Ulysses S. Grant
John: Stepson of George Washington
Joseph: Son of of Rutherford Hayes
Kermit: Son of Theodore Roosevelt
Lachlan: Son of John Tyler
Lyon: Son of John Tyler
Lyncoya: Adopted son of Andrew Jackson
Manning: Son of Rutherford Hayes
Marshall: Legal ward of James Polk
Martin: Son of Martin Van Buren
Marvin: Son of George H. W. Bush
Michael: Son of Gerald Ford
Millard: Son of Millard Fillmore
Neil: Son of George H. W. Bush
Patrick: Son of John Kennedy
Quentin: Son of Theodore Roosevelt
Richard: Son of Zachary Taylor
Robert: Son of John Tyler
Ron: Son of Ronald Reagan
Russell: Son of Benjamin Harrison
Rutherford: Son of Rutherford Hayes
Scott: Son of Rutherford Hayes
Smith: Son of Martin Van Buren
Steven: Son of Gerald Ford
Tazewell: Son of John Tyler
Theodore: Son of Theodore Roosevelt
Thomas: Son of John Adams
Ulysses: Son of Ulysses S. Grant
William: Son of William Harrison
Winfeld: Son of Martin Van Buren
Presidential children's names for girls
---
Click the banner to check out our database of over 30,000 baby names >>

Image credit: WENN
More awesome baby name ideas
Baby names ruined by TV characters
Movie star baby names
College-inspired baby names